New Nexus 7 2013 ads promise your tablets will take you home and help you study for exams
8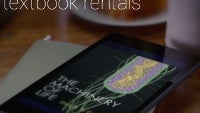 The
Nexus 7 2013
edition is one of the best small tablets money can buy right now, and now Google is popularizing it with two new ads. The commercials are short, concise and fit the Google spirit of ads - humane and touching rather than spec-obsessed. And of course featuring an engaging guitar melody.
The two new spots highlight specific Nexus 7 features - one is dedicated to the fact that you can now rent textbooks on your device, and the other focuses on Google's voice recognition technology.
We like Google's ads and these two are no exception - not too technical, yet still showing the device in use and being clear about what's advertized. How do you like them?
via
Android Police