Cox Commuications CEO: We will not bid for T-Mobile
5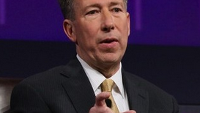 Cox Communications president Pat Esser said on Tuesday, that the company is not interested in making a play for T-Mobile. Cox was one of the companies mentioned as being
interested in joining a consortium with French content provide Iliad
, to purchase the nation's fourth largest carrier. Earlier this month,
Iliad offered $15 billion for a 56.6% stake in the carrier
. Both
T-Mobile and its majority owner, Deutsche Telekom, rejected the offer
.
While Cox, the third largest cable company in the states, is apparently staying away from T-Mobile, Dish Network might be interested. Earlier this year, Dish Chairman Charles Ergen said that
he would be interested in T-Mobile
if Sprint were to decide not to chase after its rival. Now that Sprint has decided against buying T-Mobile because of regulatory issues, we could see Ergen decide to go after the nation's fourth largest carrier.
But so far, there have been no offers on the table for T-Mobile. The chairman of Deutsche Telekom, Timotheus Höttges, says that at this point, he has not received any bids for T-Mobile that value the mobile operator at a premium over what it would be worth as a standalone company. Sprint had valued T-Mobile at $32 billion, before deciding not to fight the FCC and FTC. Deutsche Telekom owns 67% of T-Mobile's stock.
Despite the rejection of Iliad's bid, and Sprint's decision not to start a fight it could not win, there are suitors out there for T-Mobile, especially in light of the carrier's reputation as being the most innovative mobile operator in the U.S. The question is whether the timing is right for one of these suitors to make a bid.
source:
Reuters