Cortana correctly predicted New England in a close game; Mophie breathes a sigh of relief
26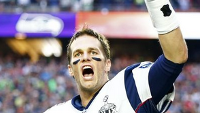 Super Bowl 49 might not have been decided until Russell Wilson's slant pass at the goal line was picked off by New England's Marshall Butler, but
Cortana had the Patriots all the way
. As we mentioned recently, the Windows Phone virtual voice-activated personal assistant had
called for the Patriots to edge Seattle 24-23
. While not as good as Madden NFL 15's prediction, which had the exact score, Cortana did call for a close game which it certainly was.
The Super Bowl 49 win for Cortana gave her a 9-2 record during the NFL playoffs. It was just last summer when
the personal assistant's 15-1 record in the World Cup caught our attention
. Cortana has been programmed with an algorithm that helps her make these predictions. Microsoft says that Cortana will be making some upcoming calls on the winner of the Academy Award for Best Movie and will also predict who will be named the Best New Artist at next week's Grammy Awards.
Meanwhile, the big wigs at Mophie were sweating out the final minutes of the game. The case manufacturer had
promised to give away $1 million in prizes if the game went into overtime
for the first time ever. With Seattle ahead 24-21 and New England driving down the field with minutes remaining, there was a good chance that the Patriots would kick a field goal, tie the score, and send it into overtime. But the Patriots scored the game winning touchdown, and sealed the victory with Butler's pick. Mophie doesn't get off scot-free however. It still plans on giving away $100 discounts to 100 winners of its contest.
source:
WindowsCentral