Watch Mophie's first Super Bowl ad, it's a hoot!
14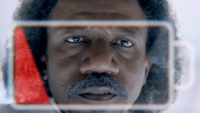 Business must be great at Mophie. The company is apparently selling a ton of its smartphone cases that feature an embedded battery because after all, a Super Bowl ad ain't cheap. And Mophie is running a spot during Super Bowl 49 as well as offering as much as $1 million in prizes for a contest related to the big game.
First things first. Mophie's ad is tremendous fun as it depicts the end of the world. Dogs are walking their master, it is raining fish, a hurricane invades Nebraska, and there is general chaos through the world. The idea is to show how smartphone users feel when their batteries are low. According to Mophie, this is why you need one of their cases. Another video released by the manufacturer shows how the video was made.
Mophie, as we previously noted, is running a Super Bowl contest. Entering it is a snap and you can click on the sourcelink to do so. If Super Bowl 49 goes into overtime, something that has never occurred in the previous 48 contests, the company will give out $1 million in prizes. If the game goes the regulation four quarters, the company will give away $10,000 in check out codes that will enable winners to get $100 free credit at Mophie's online store. Start rooting for sudden death! According to Mophie, the current odds of the game going into overtime is 16:1.
source:
Mophie
via
AndroidCentral