Case closed! These are some of the best flip cases for the Apple iPhone 6
6
The Apple
iPhone 6
can be surely found in many pockets, and most probably the vast majority of iPhone 6 owners have placed a protective case of some sort over their shiny new iPhone. These cases can, naturally, vary from rugged, waterproof, and sleek all the way to multifunctional, battery-enabled, and even downright weird. We've already highlighted some of the better offerings on the market, but we are yet to cover yet another field of iPhone 6 accessories - flip cases.
Although not as popular as the more regular cases out there, flip cases are usually bask in a lot of popularity. They do not only provide a fair share of protection, they also might have a few additional traits that the more "mundane" cases usually lack - a built-in kickstand, for example, or a hidden compartment for a credit card or even some "emergency" money.
Here are the more notable flip cases for the iPhone 6.
Top Flip by Vaja
Price: $90-$100
Dig leather? If so, the Vaja
Leather case
for the Apple iPhone 6 is surely a zinger. Made of Argentian leather, it also has a polycarbonate foundation that provides additional protection for your device. The case comes in several variations, each of which flips in different directions. A magnetic clam that uses "rare-earth magnets" will make sure that the flap stays secure on its place. As per the maker, "endless" color combinations are available.
Top Flip by Vaja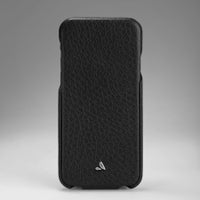 Sarach Flip by Sena
Price: $69.95
This is yet another flip case for the Apple iPhone 6 that puts its faith into leather. The Sarach, in particular, is thoroughly made of this material and comes with a "hand sewn saddle stitching". The front flip cover relies on a magnet closure to stick with the rest of the case. You can even have your initials engraved on the Sarach case. That case comes in black and brown.
Sarach Flip by Sena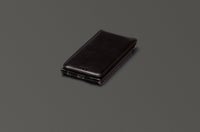 Magnet Flipper by Sena
Price: $59.95
Sena has done it again! Its Hampton Flip case for the Apple iPhone is yet another leather-y reason to treat your device to a stylish and good-looking protective accessory. This case comes with a removable belt clip, a magnetic front cover, and an interior slot for a credit card on board. This case comes in black, brown, Croco Red, and Croco Black.
Magnet Flipper by Sena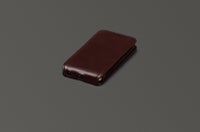 Hampton Flip by Sena
This sleek crossover between a flip case and a wallet is has two on-board credit card slots and is entirely made of leather, similar to Sena's other flip case offerings. You'd have to shed off $59.95 of your hard-earned money if you want to put it on your iPhone. It's only available in black, mind you.


Access Case by Nodus
Price: $60.66
This side-flipping case for the Apple iPhone 6 is a stylish leather accessory that allows you to attach and re-attach your iPhone 6 to the case. It will set you back 60 bucks and is available in black and brown.
SenseCover by Moshi
Price: $44.99
Moshi's ingenious SenseCover flip case for the Apple iPhone 6 is among the more interesting ones. Its most compelling feature is the its touch sensitivity. Simply put, you can answer or decline calls by swiping the case itself, without opening the case itself.
"But how am I supposed to know who's calling me?"
, you might ask. Fret not, Moshi has adorned the SenseCover with a see-through window, a la Samsung's S View cover for some of its Galaxy devices. But that's not all - Moshi's case also doubles as a kickstand. It's available in a handful of colors - black, white, and pink.
SenseCover by Moshi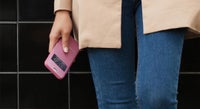 Classic Shell by Tech21
Price: EUR 34.99 (~$41)
Enough with this leather already! Tech21's Classic Shell with cover is a much more classic offering for your iPhone 6. This flip case will protect your device from impacts (though it's hardly MIL-STD-certified). You can get it in three different colors - "smokey", pink, and blue.
Bonus: Trick Cover by Nitto Products
Price: $28
Before you argue that this unorthodox case for the iPhone 6 is not a flip one, just scroll down and watch its promo video. In fact, stop reading right now and just watch the video. Done yet? Certainly, Nitto's Trick Cover has all the potential to bring out the ninja in you.
Shiiiiiing! The nunchucks are flying around, take cover!