Can't decide between Android and Windows 10? Wen Yan Sofia reportedly boots either one
20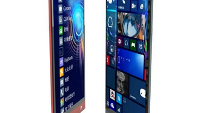 So let's say that you live in China and aren't sure whether you want your next phone to be an Android flavored handset, or one powered by Windows 10. Why not have both? A device called the Wen Yan Sofia has been leaked via social media in the country. Allegedly, the handset features a Dual Boot function that will allow you to choose between the two operating systems depending on how you feel at the moment.
The Wen Yan Sofia will feature a 5-inch screen with a resolution of 1080 x 1920. Intel's low-priced Sofia chip is under the hood (hence the name of the phone). That is actually an acronym that stands for
Smart or Featurephone with Intel Architecture
. The chip is designed to compete with Qualcomm and MediaTek silicon used in entry level handsets. The device will also include 2GB of RAM, 32GB of native storage and a 13MP rear-facing camera. A 5MP "selfie" snapper will be found on the front of the phone.
Keep in mind that the manufacturer has not yet announced the device, and Windows Phone handsets haven't been compatible with Intel chipsets, although that might change with Windows 10 for Phone. If this is legit, it sounds like the perfect smartphone for those who can't make decisions or have multiple personalities.
source:
GizmoChina
via
WMPoweruser