Can the HTC One M9 outperform the Samsung Galaxy S6 and Apple iPhone 6 in a drop test?
20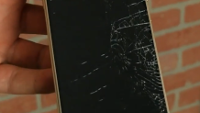 Last week, we showed you a video
that captured a drop test battle
between the
Apple iPhone 6
and the
Samsung Galaxy S6
. Unlike most drop tests preserved on video, this one employed a professional drop test machine. If you recall, the Galaxy S6 completely died before the end of all of the testing, handing a victory to the iPhone 6. Despite outlasting Sammy's flagship, the iPhone 6 also was heavily damaged after the tests were run.
In a new video released today, it is the
HTC One M9
that goes up against the professional drop testing machine. HTC's new flagship has that tank-in-a-hand feel with its one piece aluminum build. The One M9 feels like it can take a beating.
The first drop landed the One M9 backside first onto tile from a height of 3.2 feet. The phone held up well with a few minor scratches. The side drop resulted in some scratches and minor dents to the bottom of the handset. At this point, the glass screen had not been tested and the phone was still functioning fine. But the front-first drop, as you might imagine, inflicted some damage to the display, cracking the 5-inch 1080 x 1920 screen.
For the following three tests, the handset was dropped onto a harder concrete surface. After the back, side and front drops onto the concrete, the HTC One M9 was still working despite further damage to the glass and to the bottom of the phone. Overall it was a much stronger performance than the Galaxy S6, as the latter died after the back drop onto concrete. While the iPhone 6 also was still working at the end of its six drops, the HTC One M9 certainly looked a little better than Apple's handset after being put through the same paces.
Thanks for the tip!
source:
PhoneBuff