BlackBerry says it will not offer BBM to Windows Phone users for now
26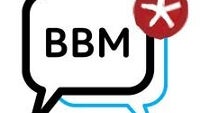 While BlackBerry CEO John Chen has
recently confirmed that the Canadian OEM will be offering BES for Windows Phone
, it seems that the beleaguered manufacturer is not going to offer its BBM for the platform. The messaging application has already been offered to iOS and Android users and
large numbers of both downloaded and installed BBM on their phones
. The apps allow iOS and Android users to send and receive messages using PIN numbers. Eventually, they will be able to make phone calls, engage in video chat, and populate discussion groups.
David Proulx, BlackBerry's Senior Director of BBM Business Development, explained that the release of BBM for iOS and Android was due to the large number of users of those two platforms. While Windows Phone might not have enough users to make BlackBerry interested in releasing BBM for the platform, that could change. Proulx says, "
As other platforms emerge, whichever they may be, we will execute on those platforms as well
."
BlackBerry's thinking about Windows Phone might be dated. While the platform couldn't get popular apps like Instagram for years, that is changing. Apps like
Instagram
and WhatsApp are now available in the Windows Phone Store. Windows Phone started to gain traction last year and thanks to the GDR3 update, top shelf models have the same specs as high end Android phones.
If Windows Phone continues to pick up users, it won't be long before BlackBerry changes its mind.
"It is not a statement of intent, and it's not a strategic or religious thing, it's just a function of when does it make sense and when is it something that consumers demand in sufficient numbers to make it worth our while and worth their while."
-David Proulx, BlackBerry's Senior Director of BBM Business Development
source:
TrustedReviews
via
TechCrunch