BlackBerry World apps for BlackBerry Z30 will work on the BlackBerry Z3
10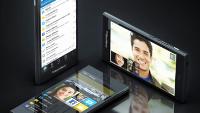 Here's an interesting little tidbit for developers with apps in BlackBerry World for the flagship
BlackBerry Z30
model. It turns out that any app that can be downloaded and installed on the Z30 will be automatically be made available for the
BlackBerry Z3
. Introduced at MWC last month,
the Z3 is the first phone to be designed and manufactured by Foxconn
based on the five year deal inked by the contract manufacturer and the troubled BlackBerry.
These low-end models are designed to be released in emerging markets. For example, the BlackBerry Z3 will launch first in Indonesia which is why it
originally was codenamed the BlackBerry Jakarta
.
If you are a BlackBerry developer, you can decide to opt out of the automatic availability of your work for the Z3. If you do opt out, you can add support for the phone at any time. Developers are receiving emails from BlackBerry that contain a link to a website where they can declare their intention to opt in or opt out for the BlackBerry Z3. The deadline to respond is March 14th at 5PM EST.
Both phones feature a 5 inch screen, although the resolution on the BlackBerry Z30 (720 x 1280) tops the expected 540 x 960 resolution on the BlackBerry Z3.
via:
Crackberry