BlackBerry Storm2, LG Ally, LG Vortex and more to get discontinued by Verizon soon
1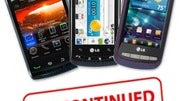 There comes a time in every handset's life cycle when it must step down from the scene and free up some space for new models to see the light of day. That is pretty much what is going on at Verizon stores right now as a number of cellphones and a couple of Wi-Fi hotspots are about to be added on the carrier's list of discontinued devices.
We just received a hint from an anonymous tipster saying that the last units of the BlackBerry Storm2, LG Ally, LG Vortex, LG Cosmos, LG Fathom, Samsung Convoy, ZTE Five Spot and the MiFi 2200 are being cleared out. Quite a list, we know, but Verizon might very well be freeing up space on its shelves for new handsets to replace them.
Unfortunately, we are not quite sure whether the prices of the aforementioned devices have been slashed or not so if you are interested in any of them, you might have to go to a Verizon store and check them out personally. Who knows, there might be a bargain waiting just for you.
If you are curious to see what handhelds are expected to join the carrier's lineup soon, feel free to check out our list of upcoming Verizon phones.
Thanks, anonymous tipster!