The best Note 8 deal comes courtesy of T-Mobile and Samsung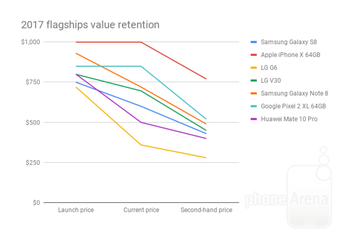 With a few days before the general
Note 9
release, and with the first of its pre-orders already getting out of the warehouse, Samsung and T-Mobile just slashed the price of its predecessor to the lowest we've seen for buying outright. How do $550 for one of the best flagships of last summer sound like?
Pretty good, we'd wager to guess, and that's exactly how much it will cost you to snatch a gray
Note 8
directly from Samsung or from a T-Mobile store if you have one around. That's just $22.92 a month for 24 months, or you can slash the price even further with an eligible trade-in. Give in, say, your oldie S8, and you can grab a brand new Note 8 for a little over two Benjamins.
Given that the
Note 8 was $930 when it launched
, this deal proves it was one of the
fastest-depreciating flagships
of last year, for the joy of its current buyers. Heck, $550 is what a second-hand Note 8 fetches you on Craigslist or eBay now, before Samsung and T-Mobile slashed the price of a new one with 40% or so.
Of course, we've seen the
Note 8 for $399 at T-Mobile
with 24 bill credits, but for new lines. The only caveat here is that you'd better like a specific color because that's what you will get for $550, while the black Note 8 is still $670. Still, calling all S-Pen lovers and T-Mobile aficionados, check out this Note 8 deal for $550 below.