Best Buy to sell both Motorola's DROID and DEVOUR for $99 on February 25th?
4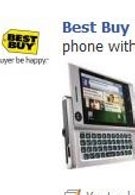 As we
reported
the other day, Best Buy has dropped the price of the upcoming Motorola DEVOUR to $99.99 with a 2 year contract on Verizon. This is Big Red's first handset equipped with the social integration MOTOBLUR UI and should get some play from the Facebook/Twitter crowd. But what would happen if, at the same time, the retailer cut the price on the Motorla DROID to the same price? Starting February 25th, we are going to find out. Listed on its Facebook page is the news that Best Buy is cutting the DROID to $99.99 with a 2 year contract. On paper, the latter device would seem to have the advantage with its geeky cool industrial design and square corners, a 3.7 inch display with 480 x 854 resolution and Android 2.0.1 (soon to be Android 2.1, right Motorola/Verizon? Can you hear me? How about now?). The DEVOUR, as seen on that Super Bowl commercial with Meagan Fox, is no slouch either. Running on Android 1.6, it features a tough aluminum casing and a physical QWERTY that some have said is better than the one on the DROID. Of course, you get MOTOBLUR which is not on the other device, and the DEVOUR has some
flash support
and features the Qualcomm MSM 7627 under the hood. That is the same processor that runs the Palm Pixi. In defense, the DROID is powered by the faster TI OMAP 3430 and is expected to get Flash 10.1 later in the first half of the year.
So you Androidmaniacs, what will it be? $99 with a 2 year Verizon contract starting Thursday at Best Buy for either the DROID or the DEVOUR. Which one would you choose?
Motorola DEVOUR Specifications
Motorola DROID Specifications
|
Review
source:
Facebook