Best Buy now dropping the price for the Motorola DEVOUR to $99.99?
6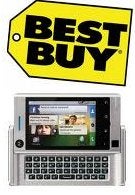 As we've
reported yesterday
, the Motorola DEVOUR will be going for a hefty $149.99 on contract throughout Best Buy stores nationwide. Some may argue how that may not be enough to attract customers from just jumping up to its bigger sibling; the Motorola DROID. Now one of our tipsters has managed to shed some light on a potential new pricing structure for the DEVOUR that may raise some eyebrows and getting the attention it deserves. It looks like the big box retailer is planning on giving the Android powered smartphone a much need price chop before it's even made available. Previously going for $149.99, it now points to a much more respective lower cost at $99.99 – and that's for both new and existing customers. If having to sign away your life for another 2 years isn't your kind of thing, then you'll really be impressed with it new no-contract price of $299.99 – a big decrease from the previous announced $549.99 cost. Let's hope that Best Buy does consider keeping this new attractive pricing structure – it'll definitely make it a worthwhile investment.
Motorola DEVOUR Specifications
Thanks to our anonymous tipster!