Best Buy, Amazon cut the price of the Motorola Moto 360 in response to competition from Apple Watch
14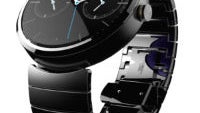 With pre-orders for the Apple Watch starting today, some retailers have sliced (hacked, cut, axed and dropped will all work as well) prices of competing smartwatches. Take the Android Wear powered Motorola Moto 360. Originally priced at $250, the watch can now be purchased from Best Buy and Amazon for $179-$180 with a leather band. A Moto 360 with a metal band can be purchased for $220 from Best Buy and $229 from Amazon.
Today, deals site Meh offered refurbed MetaWatch models for just $15 plus shipping. That deal is now sold out. The MetaWatch smartwatch is compatible with both iOS and Android, but has a black and white screen. When launched in 2013, the device cost $179.
The Apple Watch starts at $349 for the Sport model
and runs as high as $17,000
for the Apple Watch Edition Rose Gold model. We wouldn't be surprised to see price cuts on other Android Wear flavored smartwatches over the next two weeks. While the Apple Watch is expected to start shipping on April 24th,
some models are not expected to arrive until August
.
source:
BestBuy
,
Amazon
via
AppleInsider