The best and worst Android makers for software updates, or why Samsung isn't that bad
70
This article may contain personal views and opinion from the author.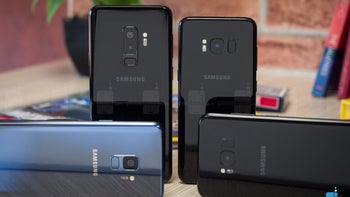 The
Verizon
,
AT&T
and
Sprint
versions of the
Galaxy S9
and
Note 9
have started receiving their Android 9 Pie update last month, exactly as
Samsung promised
. The US carrier models are even getting a slice of Pie before the unlocked version from Samsung's website in the US which is pretty cool (or sad, if you own one).
Fans love to rant how bad Samsung is with software updates, but it actually sits in the golden middle
Granted, Google released Android Pie back in August, and it has been 5 months before US carrier models got it but this is actually par for the course when it comes to software updates of the big Android brands on Verizon, AT&T or T-Mobile. We made a little table to show you how many months passed between the last two major Android releases, and the updates making it to US carrier phones.

Release to manufacturers other than Google
Samsung US carrier models update
LG US carrier models update
Android 7 Nougat (initial release August '16)
December, 2016
February 2017 (Galaxy S7, S7 edge, etc.)
February 2017 (LG G5)
Android 8 Oreo (initial release August '17)
December, 2017 (8.1)
March 2018 (Galaxy S8, S8+, Note 8)
March 2018 (LG V30)
May 2018 (LG G6)
Android 9 Pie (initial release August '18)
n/a
January 2019 (Galaxy S9, Note 9)
Q1 2019 (LG G7, LG V35)
Q2 2019 (LG V40, V30)
While those delays between the initial Android version release to Google's own phones and the rest of the manufacturing crowd are
annoying
, Samsung actually did a decent job here. It pushed a radically
new One UI overlay
and the latest version of Android rolled in one in a similar timeframe as before. That is no small feat considering what a poor Android maker has to do to get its software updates approved on US carriers.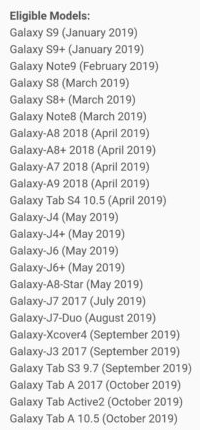 You'll eat Pie, sooner or later
Here's how it works:
1.Verizon, AT&T, or T-Mobile, etc., get an Android build from Samsung when Google releases it to them and they are ready with any overlay changes of their own (say, slapping the new One UI and testing how it works under the new operating system version);
2. US carriers test Samsung's Android Pie build with One UI for fair play with their own apps (say, T-Mobile's dialer), for network, carrier aggregation, radio, etc., compatibility, and then file their reports with Samsung;
3. The manufacturer and carriers then work to iron out any bugs or issues with carrier-specific software or network connectivity. When the app and settings' kinks are straightened up, they are sent to Samsung in a ready state to be included in the final firmware tailored to the specific carrier, and be pushed over the air to the Verizon, AT&T, T-Mobile or Sprint subscribers' phones when that procedure is ready.

The average number of major software updates a Samsung phone gets is actually the highest among the top three Android makers
As you can see, there are a few extra steps involved compared to pushing stock Android to unlocked phones like Google does with the Pixels and some manufactures that went the stock route like Nokia, for instance. Fans love to rant how bad Samsung is with software updates, but it actually sits in the golden middle. In fact, Samsung is the only one of the top three Android makers that is listed in the
AOSMark ranking
of the best and worst manufacturers when it comes to major software updates.
Bear in mind that the scores below represent an average, i.e. flagships like the Galaxy S9 just got a serving of Pie, and will most likely get a taste of Q, or whatever Google names Android 10, clocking in at least two major updates.
The
Galaxy A9 2018
, on the other hand, which is scheduled to get Pie in April, may stay there for its life span, while phones like the Galaxy J7 Crown, for instance, may never get anything higher than what they shipped with, hence Samsung's 1.3 updates average. Let's not forget also the number of handsets Samsung has had to upgrade since it started making Androids, more than a thousand, while manufacturers like the runner-ups OnePlus or Nokia, only have 10-30 to take care of.
Long story short, if you are happy with your Samsung flagship, software updates probably won't be a deciding factor whether you'll grab its successor(s), too, especially considering that it's now Google that is playing feature catch up with Android makers' overlays, not the other way around.