Bending phones, pocket explosions, butt-dialing: it's time for the old belt-holster to make a comeback
70
This article may contain personal views and opinion from the author.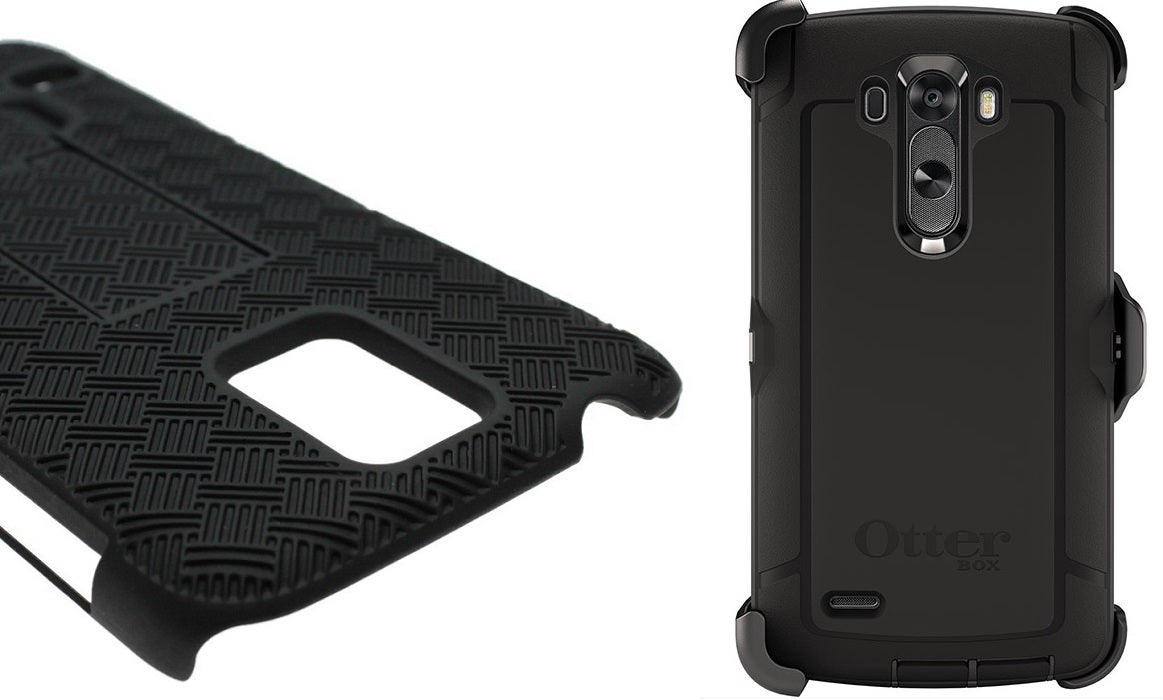 Whether you prefer a thin profile, or something extra tough, a case & holster combo is ready for you.
Seriously, I never picked up on the whole deal of keeping my phone in my pocket, even back in the day when I had an old school Motorola. Of course, back then the phones couldn't fit in your pockets anyway so there was no point.
Even in the mid-to-late 90s though, if my mobile phones didn't come with a holster or case with a belt clip, I would buy one separately. During those earlier years I had mobile devices, the only one I can remember having to keep in my pocket for a short while was back when Qualcomm still made phones. This one in particular was known as the "Thin Phone" (QCP-2700 series). You know what happened during the few days I didn't have a holster for that thing? I pocket dialed 911 not once, but twice in the same day, and that was with the key-lock enabled. Unlocking the candy bar form factor was a simple two button combo though, so there it is. Good thing CHP took it all in stride because each time, the dispatcher had to hang-up and call me back to make sure everything was okay.
Over the past four or five years, I have actually taken into consideration my case and holster options when deciding which smartphone I am going buy while attempting to satisfy my insatiable impulse to acquire gadgets. In fact, if I cannot find the case I want, I generally won't buy the phone. There have been rare occasions when I will buy a phone and get a case that does not have some type of hip holster for it. However, in the past five years, there are only two I can think of where I did not follow that rule. One of those devices is my
Lumia 1520
, which is my second-string daily driver and has a Nillken case. The other was my
Oppo Find 5
, which I had last year and kept in a thin and sleek Meifeng case.
The 1520 gets a break because it is not always on me, so it resides on my desk, or in my backpack if I'm out-and-about. The Find 5 was my primary device for a bit, but having to keep it in my pocket had me so disjointed that I put my SIM back into the
Galaxy S4
that I also had at the time. Today, the rest of my current collection which I may have my primary SIM play musical chairs with, be it an
LG G3
,
Lumia 930
,
HTC One (M8)
, or
Nexus 5
(the list does go on), are all adorned with a case, and some type of snap-in (like a Seidio) or slide-on (like a PureGear) holster combination.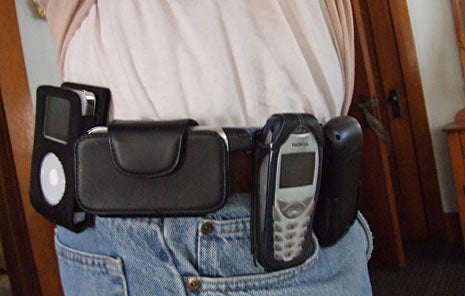 Now that our smartphones are basically an all-in-one device, with less of a need for two phones, accessorizing your belt like this is a thing of the past, thankfully
Why do I insist on this old-man method? Well, aside from my gray hair, I honestly cannot stand the thought of putting a $600+ computer in my pockets which are already holding my car keys, Chap Stick, gum, wallet, pocket knife, and whatever else I might be bringing along for the day (I do have some other items I need to keep handy, but that's another story, and it's not related to mobile).
Credit to LG for its forethought with the
G Flex
, lending itself to being able to handle some extra stress of being in a pocket, but even that device is rendered to my hip. It's a compact 6-inch phablet, but it's still a phablet, and the self-healing back plate coating is a lint magnet. A case and holster solve both problems.
A lot of folks still like to buy their devices on-contract, and that gives them an artificial sense of how much these devices actually cost on a retail level. The carriers are pushing their equipment financing options hard and fast, and rightly so. Take a moment to think about what our devices are. To quote Twitter
CEO Dick Costolo
, these devices have put the "internet in our pants." Well, it's time to take the internet out of our pants, and get that handy tool on our hip. No more digging around pockets, keys and coins jamming into the phone body or screen, it's a win-win all-around.
Now we have the overblown, but
ever-so-easy-to-make-fun-of
, "#bendgate" with the new
iPhone 6 Plus
, the fact that
people still butt-dial 911
about
3 times every second
, and there is a steady
stream of stories
about devices bursting into flames,
or exploding
while roasting in
someone's pocket
. I don't get it, even with all the tough materials, doesn't anyone worry about damaging their "precious," cracking the the screen and cutting things up?
There's also the size issue (I suppose there was no way I was going to get around mentioning that), indeed a source for good jokes, but these things are just too big for our britches don't you think? What is the appeal?
"Is that a phone in your pocket?"
Oh, but for the days when just about every phone came with a box chock full of accessories, like an extra battery, charging stand, car charger,
and
a belt-holster.
Maybe it's old fashioned, but you know what will happen to me if one of my phones decides to go nuts and explode? Nothing. The explosion has room to expand away from me, not be contained in a pocket to inflict damage upon me. What if I bump into something? No worries, it's still in a case.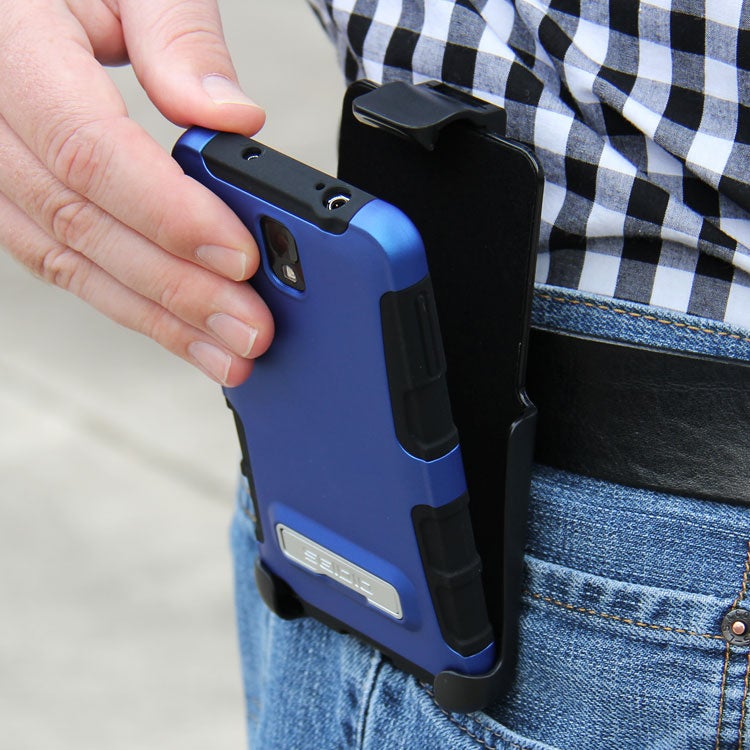 The Seidio case-holster combos tend to cost a little more, but they are a great design
For those that like their device to exist in full naked glory, there are holsters for you too. They're usually made of leather, or nylon, and some companies make snap-in holsters for bare devices too. Plus, they really don't look like some ugly appendage. I know I'm not alone in this line of thinking because there are some great case-holster combinations out there from companies like Maxboost, PureGear, and Seidio (my personal favorite), just to name a few. From thin profile hard shells, to padded hybrids, to ballistic OtterBox set-ups, you can protect your phone, make a fashion statement, and keep it out of your pocket.
There are case-holster combos for every budget too. Whether you look on Amazon.com, go to a carrier store, or look up the manufacturer itself, you will find dozens of options in colors, styles, and form factors for just about every device you can imagine.
Say "no" to #bendgate. Say "no" to butt-dialing your ex or the police. Say "no" to exploding phones in your pocket. Say "no" to burning your pants, underwear, legs, or other precious body parts. The time is ripe for the belt clip, holster, and phone, to be "hip"
on the hip again.