OnePlus One doesn't settle – explodes instead
65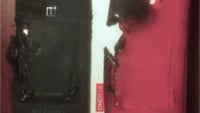 OnePlus just can't catch a break. From the constant ridicule of its
invite system
, to the merciless bashing of its
badly thought-out contests
– the company only has its actual product – the
OnePlus One
– to be proud of.
Now, OnePlus has become quite liberal with its invites and getting a One nowadays is not as hard as it was around launch. Of course, having the handset supplied to more and more people will increase the statistical chance of lemons with weird problems to pop up – such as
the yellow line
that some owners complained about a while back. However, a yellowish hue that comes and goes is one thing, having your phone explode while in your pocket is another.
And that's just what happened to OnePlus forum member MiYzu. Apparently, his One's battery refused to settle and decided to catch fire for seemingly no reason, while MiYzu was walking around a subway, somewhere in France, with his brother. Luckily, he felt the heat in time and managed to get the device out of his pocket and onto the ground, sustaining only minor injuries to his leg. His brother had his iPhone 4 in hand and captured the death of the OnePlus One in a few photos.
Causes are unclear, although the same user did have complaints about his charger being unusually hot while charging the phone. To that complaint, OnePlus support replied that it's normal for the charger to become warmer, though he should contact them again if it's getting extremely hot (apparently, this response is confusing enough for one to start wondering – how hot does a charger have to get in order to be considered extremely hot?). The device itself is less than 2 months old and MiYzu says that it wasn't at full charge, nor has it been heavily used, prior to the incident.
Carl Pei, director of OnePlus Global, has chimed in, saying that the manufacturer has dispatched staff to physically visit MiYzu and retrieve his spontaneously combusted flagship killer, as well as examine the circumstances surrounding the incident. Furthermore, he promised that MiYzu will receive a new phone and reimbursement for the damage of his jeans, phone case, and for the medical bill.