Conan O'Brien weighs in on #Bendgate with a hilarious video
30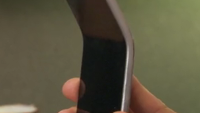 There is no doubt that Conan O'Brien is one of us. By that, we mean that the writer, comedian and talk show host is also a huge smartphone fanatic. Not too many late night hosts could understand the dynamics of the Samsung-Apple feud. The latest video by O'Brien is an instant classic as it takes the
Apple iPhone 6 Plus
and turns it into a phallic symbol.
"
There's nothing more embarrassing than a flaccid phone
," says the voice over announcer as we get an eyeful of what is supposed to be an iPhone. Instead of talking to the Doctor, the announcer suggests that we should talk to our carrier about Samsung Galaxy phones, which are "
rigid and stiff when you buy them
."
If you don't grasp the joke yet, let's just say that disabling the ringtone and enabling "vibrate" has a whole new meaning after viewing this clip, which we're sure that you will do multiple times today just to get a
rise
laugh.
source:
TeamCoco
via
AndroidCentral