Asus ZenFone 6, ZenFone 5 and ZenFone 4 to be launched in April
25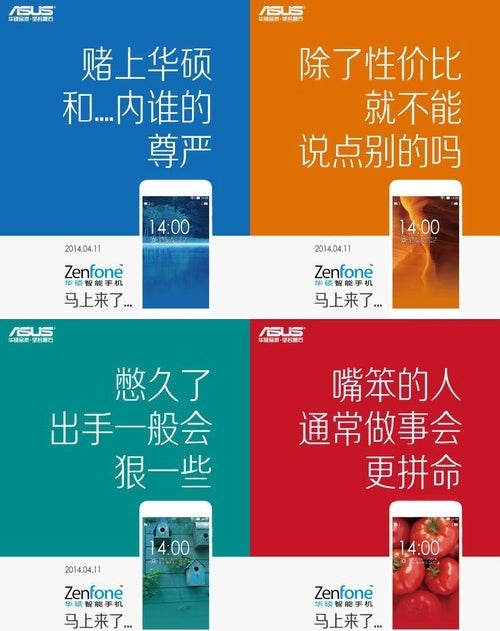 Asus announced its new
Intel-powered ZenFone smartphones
at CES 2014 in January, but it didn't release any of them yet. Still, it looks like that's going to happen soon.
According to Asus, the company is getting ready to officially launch the new handsets in April - at least in China. Reportedly, the
ZenFone 4
,
ZenFone 5
and
ZenFone 6
will all be available in China starting April 11. They'll run Android 4.3 Jelly Bean at launch, but updates to 4.4 KitKat should arrive later this year.
The largest among the new devices is the ZenFone 6, which, as its name suggests, sports a 6-inch display (with 720 x 1280 pixels). Other features include a 13MP rear camera, 2MP front-facing camera, dual-core 2GHz Intel Atom Z2580 processor, 1GB of RAM, 8GB of expandable internal memory, and a large 3,300 mAh battery. The ZenFone 6 should retail for $200.
Next, the ZenFone 5 also has a 720p display, but this one measures 5 inches. The handset further features a dual-core 2GHz Intel Atom Z2580 processor, 1GB of RAM, and 8GB of internal memory. It has an 8MP camera on the back, and a 2,110 mAh battery. It will be cheaper than the ZenFone 6, being priced at $150.
Naturally, the ZenFone 4 is the smallest among the three devices, offering a 4-inch WVGA display, 5MP rear camera, dual-core 1.2GHz Intel Atom Z2520 processor, 1GB of RAM, only 4GB of internal memory, and a 1,200 mAh battery. This will cost around $100.
Customers interested in learning more about Asus' latest handsets can check out our hands-on experiences at these links:
ZenFone 6
,
ZenFone 5
,
ZenFone 4
. Photo galleries are embedded below.
source:
Asus
(Weibo - automatic translation not available)