Asus ZenFone 4 hands-on
1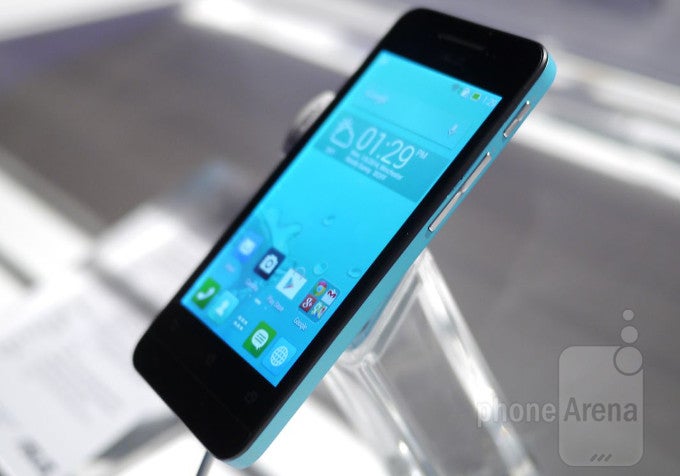 During the first day of CES2014, we had the chance to take a look at the smallest, most affordable of Asus' new budget phones -- the ZenFone 4. As the name suggests, it features a pretty compact 4-inch display, and is powered by a dual-core Intel chipset. Nothing really fancy about this phone, yet the price tag of $99 does cast a whole different light on the device. Let's take a quick look
Design
As is to be expected, the ZenFone 4 is not at all different from its cohorts -- the ZenFone 5 and ZenFone 6. At least design-wise. We're treated to the very same soft-touch back panel, which, combined with the petite proportions of the handset, makes this phone quite ergonomic and manageable. The same metalic-y strip can be found down bottom, at the front of the device, serving as the main discerning feature that glues the ZenFone line together.
Overall -- nothing really special about this handset, though it sure helps that Asus has gone for such punchy color options, including 'charcoal' black, 'pearl' white, 'cherry' red, 'sky' blue, and, lastly -- 'solar' yellow.
Display
The front of the Asus ZenFone 4 holds a 4-inch, 480x800 resolution TFT panel. As with most other LCD displays of this types, colors are mostly reproduced correctly, yet looking at the device from an angle proves unpleasant. In terms of image quality, we counted some 230 pixels per inch or so, which proved adequate, all things considered.
Interface
Alike to the rest of the ZenFone line, we're treated to Asus' new ZenUI on top of Android 4.3 Jelly Bean, with a promise for a timely update to Android 4.4 KitKat. As we've noted already, the new interface has been simplified down to the essentials, and proved visually attractive during our time with the phone. We're yet to delve deep and see just how easy-to-use ZenUI really is, though our first impression was positive.
Processor and memory
Powering the Asus ZenFone 4 is a 1.2GHz, dual-core Intel Atom Z2520 chipset built on a 32nm HKM process. We've had little experience with this particular bin of what is now an older generation of mobile Intel chips, though the ZenFone 4 seemed to run smoothly.
In terms of memory, we've got a generous 1GB RAM stick, though the size of the on-board storage remains unknown. We're guessing 4GB or 8GB, so it's good to know that Asus has seen fit to add a slot for microSD expansion, good for up to 64GB more.
Camera
There's not much to talk about when it comes to the photographic capabilities of the ZenFone 4. It's been fitted with a 5-megapixel shooter at the rear, with no LED flash in sight. This, more than likely, means that low-light shots will simply prove disappointing.
Up at the front, we have a tiny 0.3-megapixel front-facing camera -- so nothing fancy at all.
Expectations
An even cursory look through the Asus ZenFone 4's specs sheet is enough to call it: this is a low-end device. On the other hand, as unimpressive as the hardware may sound, we do have to keep in mind that a price tag of $99 definitely makes this a deal worth taking, and we'd imagine quite a few people will. As to when and where said people will have the opportunity to, remains unknown at this time, so we're unwilling to make any serious forecasts just yet.