Asus ZenFone 6 hands-on
13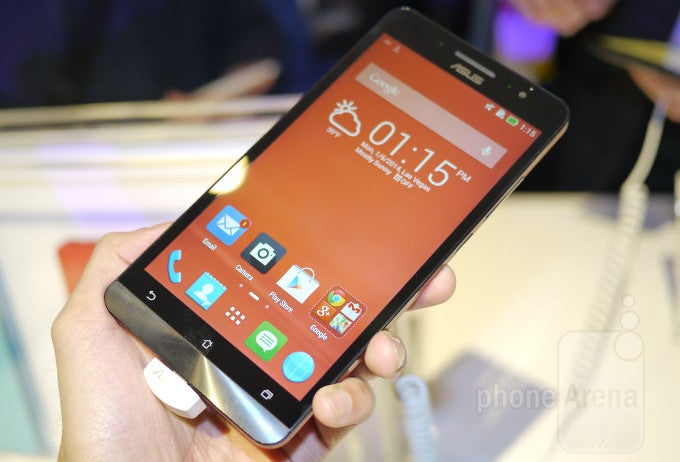 Nothing quite says 2014 when even budget devices start getting all comfy over in 'true' phablet zone, and the Asus ZenFone 6 is a perfect example. Slated for a release with a price tag of $199, this 6-incher is one big phone. Part of the aforementioned all new budget line of the Taiwanese manufacturer, the ZenFone 6 actually offers pretty high value for money, and that sure is its main weapon. We were at CES2014 when Asus introduced the new handset, and we got some quick one-on-one time. Here's what we found out.
Design
The ZenFone 6 is the most 'premium' phone in Asus' new budget line, but it's definitely not because of its exterior. Don't get us wrong, as we already mentioned in our ZenFone 5 hands-on, we found ourselves appreciating the simplistic, but effective styling of the new series, and yet it's basically the exact same phone, just in different sizes. Regardless, we once again fell for the friendly touch of the soft-touch plastic on the rear of the ZenFone 6, though, admittedly, it's much less ergonomic due to its sheer size. On the plus side, Asus hasn't gone mental with the size of the bezels, and this actually is a fairly compact crack at the 6-inch format, especially considering the smartphone's price. Like the rest of the family, the ZenFone 6 is offered in a range of colors -- black, white, red and yellow -- plus, a number of stylish-looking covers. In all, Asus seems to be counting on extra sales of accessories in order to spice up what are likely some pretty low profit margins.
Display
As you can imagine, the 6-inch display on the ZenFone 6 is its main highlight. We're looking at an IPS panel, which is always welcome, though its 720x1280 pixel resolution may prove a tad too low and blurry for a select few. Truthfully, a ppi of about 245 is certainly nothing to despair at -- it's still sufficiently sharp. Anyway, the inherent advantages of IPS panels are all present with the ZenFone 6 -- color reproduction is decent, and we don't have to constantly re-adjust our viewing angle in order to enjoy the screen.
Interface
The ZenFone 6 runs on Asus' new, proprietary ZenUI skin on top of Android 4.3 Jelly Bean. ZenUI is Asus' idea of a simplified, easy-to-use interface, and we're mostly sold on the skin, at least for now. It's fairly neat, without needless bloat, though still appears fairly functional, at least from our cursory examination. Lastly, the Taiwan-based company has already promised that all ZenFone devices can expect an update to the newest Android 4.4 KitKat -- a major commitment -- one that customers will hold the company to.
Processor and memory
As the 'Intel inside' logo on the rear of the ZenFone 6 suggests, there's a 2GHz dual-core Intel Atom Z2580 chip fitted inside. That one is from the now older generation of mobile Intel chipsets, though it proved capable enough to power through the UI without any visible stutters.
In terms of memory, we've got 1GB of RAM on-board, though the size of the internal storage remains unknown at this point. In any case, we do know that there's a microSD slot available, good for up to 64GB on top of whatever Asus has seen fit to install (likely 4GB or 8GB).
Camera
The Asus ZenFone 6 carries the most potent shooter of all new ZenFone devices. We're talking a nicely-sounding 13-megapixel rear snapper with AutoFocus and an LED flash. Asus had little else to share about the camera hardware itself, though it did take the opportunity to play up its PixelMate camera software. PixelMate is supposed to come in handy, especially in low-light situations, though we'd prefer to wait this one out and judge for ourselves once and when we get our hands on the phone.
As per usual, there's a 2-megapixel camera at the front, good for video calls, but little else.
Expectations
At $199, this is one heck of a device, especially for those that are after large-screened devices. We obviously weren't able to thoroughly test out the capabilities of the Asus ZenFone 6, though it goes without saying that this should prove to be one heck of a multimedia hog. Depending on where Asus markets these, demand could prove quite diverse -- Aian markets are considerably more receptive of the giant form-factor, whereas the western hemisphere is mostly happy with their 5-incher.