Asus ZenFone 5 hands-on
15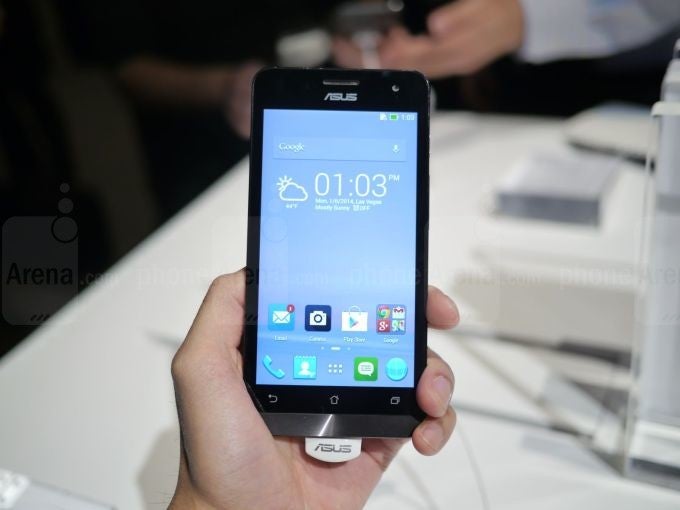 Asus surprised us with the unveiling of a new line of affordable smartphones for the wider public today, at CES2014, and in a good way. The new series will be called ZenFone and they offer a pretty decent bang for your buck, should you ever find yourself looking for a deal, as opposed to the very latest in tech. The ZenFone 5, is, without a doubt, the more interesting of the trio of new budget phones, if only because it's diagonal measures at 5-inches -- the current Android sweet spot. But does a $149 price tag manage as much? Let's have a quick, cursory look.
Design
The design of the Asus ZenFone 5 is quite simplistic, but that actually won it extra points with us, and we sure liked the way the Taiwanese company styled this one. It's got a slightly curved, but ergonomic soft-touch rear casing that comes in a truly rich palette of colors -- from black, through white down to yellow, red and blue, with a number of extra options available, making this a truly customizable phone. It features capacitive buttons over at the bottom bezel, right underneath which, you'll find a metalic strip that adds just enough character to the ZenFone 5. This, in addition to the wide array of color options, helps the phone to stand out from the crowd.
This is not an award-winning design, folks, but it's pretty darn sexy, all things considered.
Display
The ZenFone 5 features a 5-inch, 720x1280 pixel resolution IPS display. As with most such panels, we're treated to a sufficiently crisp viewing experience, life-like colors and relatively decent viewing angles. Asus has managed to strike a balance with the amount of bezels, too -- there's some extra fatty plastic on the bottom, but the sides are perfectly adequate for this price range. Overall, while this 5-inch panel won't wow anybody, we found it more than appropriate.
Interface
Another fairly important announcement that Asus made today is the introduction of a new custom UI that it cooked in-house. Called ZenUI, the new interface is built on top of Android 4.3 Jelly Bean and seeks to simplify the user experience, and it really feels quite pleasant. On a first look, it proved responsive and snappy, and a good effort overall -- we do know how paradoxically complicated it is to simplify things without butchering the entire experience in the process.
Best of all, Asus is promising some serious software support, as an Android 4.4 KitKat is apparently not too far off.
Processor and memory
Powering the Asus ZenFone 5 is an 2GHz dual-core Intel Atom Z2580 chipset. Now, dual-cores have definitely lost their appeal as we're bombarded with as many as eight-core chips, yet Intel's little warrior has proven that it's not to be underestimated. In other words, while it won't bring you Snapdragon 800-class performance, it is perfectly capable of operating the ZenFone 5 without any noticeable stutters.
Memory is at about the same level -- 1GB. So, spacious enough for the most common set of task, but not exactly high-end. This, of course, makes sense, as we can't help but stress the low price point.
Camera
An 8-megapixel shooter is what you'll find on the soft-touch, plasticky rear of the ZenFone 5. With an aperture of f/2.0, we're actually hoping that Asus' new phone won't end up on our list of camera units that show great discrepancies between performance on paper and in real life, and the company surely suggests as much. We're speaking, of course, of its new PixelMaster software that it seems fairly proud with. Whether this will prove to be yet another marketing tool, however, remains to be seen
Expectations
There are no two ways about it -- this is one aggressively-priced phone. What's even better is the fact that we actually found the ZenFone 5 to be pleasing in terms of looks -- a rarity among budget handsets nowadays. Depending on when and where Asus markets this 5-incher, we could definitely see the company moving a bunch of units. Unfortunately, this won't hold nearly as much truth if Asus targets these at the massively price-conscious Chinese market, where incumbents are already offering more for less.