Asus ROG Phone II will be the first phone with new Snapdragon 855 Plus
10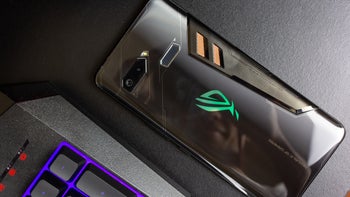 Gaming phones are a thing
: with higher screen refresh rates, better GPUs, and even things like cooling and integrated game controls, they have dug up a niche in this highly competitive market.
And one of the best gaming phones out there will get a refresh soon and we already know that it will be the first one to have the just-launched Snapdragon 855
Plus
system chip on board. We are talking about the Asus ROG Phone II that will build on top of the solid foundation set by the first generation ROG phone which had a 90-hertz AMOLED Display panel before it was cool and introduced something called AirTriggers, which were corners at the edges of the phone that worked as bumper buttons for games.
The advantages of the new Snapdragon 855 Plus over the regular Snapdragon 855 chip that you find on phones like the latest Galaxy S10 series include a 15% boost in graphics performance and a bump in the peak clock speed from 2.84GHz up to 2.96GHz.
The increase in graphics performance is probably the key improvement here as it will allow for smoother performance in games, less lag and more kills. We are also expecting to hear more news about cooling a processor that runs at such high speeds, so it can not only get those peak performance moments right, but bring that sustained performance that is required for many games as well.
"Snapdragon 855 Plus will raise the bar for elite gamers with the increase in CPU and GPU performance,"
Qualcomm VP of product management Kedar Kondap said in a press release.
The Asus ROG Phone II is coming soon and while we have no further specifics about it right now, Asus did promise to reveal more about the phone in the coming weeks.