Asus Eee Pad Android tablet might have a sliding keyboard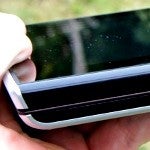 Those
teaser pics of the Asus Eee Pad upcoming tablets
with Windows and Android last week definitely had something going on about them. One of them clearly showed a keyboard attached to the tablet, and in another one two halves were present. Then we deduced that it is most likely a detachable keyboard shot at different angles, similar to the accessory for the Windows 7 Asus EP121 with the 12" screen.
Taiwan's Central News Agency has reported now that actually both scenarios are in place for Asus tablets, that are to be announced at CES as soon as tomorrow. The Android tablet is supposed to feature a slide-out keyboard, and the Windows slate will have a detachable keyboard as a separate accessory.
Sounds quite innovative already, and its Eee Pad tablets also sport slick design and high-end specs like USB 3.0 (for the Windows version). Well, we know Asus is aiming for double digit share of the non-iPad tablet market this year, and that will not be easy to achieve with anything less.
Asus is said to release six tablets in total this year, and three will most probably be shown at
CES
, where we will be scouring the floors, so stay tuned for more updates on this and other tablet surprises.
via
YahooNews