Apple's stock now in bear territory after 20% drop from peak; was Elliott Wave correct?
82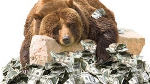 We always like to give credit where credit is due. Last April, with Apple's shares at $608,
Elliott Wave Theory helped Ramki Ramakrishnan predict a drop in Apple's stock to $510
. For those who never heard of E-Wave, we suggest you go back and read the original story, but to give you a brief background, it is a method that uses wave counts and is highly open to personal interpretation. Two experts can look at the same chart and get two different forecasts.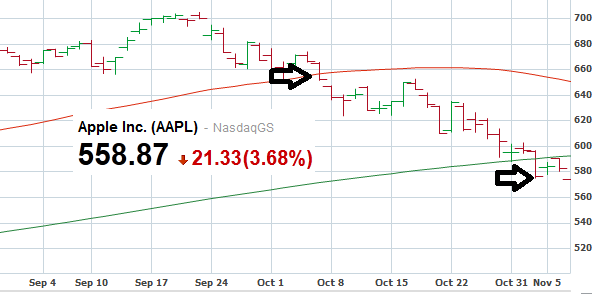 Apple's shares are down more than 20% from the peak. Chart courtesy of Yahoo
What brings this to mind is that Apple's shares, like the rest of the stock market, isn't in the celebrating mood. You see, Wall Street is typically manned (or womanned, if you like) by Republicans and after
last night's re-election of president Obama
, well, traders might be feeling out of sorts today. Nonetheless, Apple's stock chart already looked like a
disaster waiting to happen
before the votes were even made, with both the 50 day and 200 day moving average pierced on the downside. After peaking at $705 on the day that the Apple iPhone 5 launched, the stock is now down to $556 which is a greater than 20% decline from the peak which puts the stock in the bear camp for now.
A drop of another $46 would take the stock down to Ramakrishnan's $510 target and yes, some congratulations might be in order. But the problem is that he made the call months before the stock took off and traded above $700 and we don't know too many traders that would have remained in a short position (a way to profit from a sliding stock, think of it as the reverse of buying low and selling high) $100 against them.
We have made notice lately of the feeling that there are some frayed ends at Apple. The
problems with Apple Maps
, the
dinged Apple iPhone 5 models out of the box
and the
recent boardroom shakeup
. Stock prices look ahead by 6 to 9 months according to some technical analysts. If so, what is this decline in Apple telling us?