Cook says to expect history in April when iPhone sales will show a year-over-year decline
34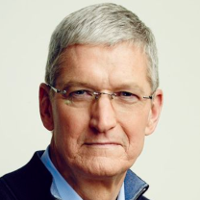 Apple has never reported a year-over-year quarterly decline in iPhone sales. It came close today
when reporting its fiscal first quarter earnings
. Apple sold 74.8 million handsets during the October through December time frame, a mere 300,000 more
than the 74.5 million it sold in the same quarter last year
.
With most analysts calling for Apple to sell 54.6 million iPhone units this quarter, that would represent a decline from the 61.2 million that Apple sold in the same quarter last year. And this afternoon, none other than Apple CEO Tim Cook confirmed that history will be made during Apple's next earnings release in April.
During the company's conference call following the earnings release on Tuesday, analyst Toni Sacconaghi from Sanford Bernstein asked Cook whether Apple was in the throes of a more serious decline, one that would result in lower iPhone sales for all of 2016. The Apple CEO's response included an admission that the company will report a year-over-year decline in iPhone sales for the current quarter.
But that could be the low point. Tim Cook says that he expects iPhone sales to recover in the second half of the year. He might have been looking at stats that show 60% of iPhone users have yet to upgrade to the
Apple iPhone 6
or
Apple iPhone 6s
series. Or he might have been looking at emerging markets that are just beginning to get 4G LTE connectivity, or a rapidly growing middle class in China.
"We do think that iPhone units will decline in the quarter. We don't think that they'll decline to the level that you're talking about. We aren't projecting beyond the quarter as [Apple CFO Luca Maestri] mentioned earlier, but at this point in time, we see that Q2 is the toughest compare. Plus, we're in an environment now that is dramatically different from a macroeconomic point of view than last Q2. From a currency point of view, from the level at which we've had to adjust pricing in several of these markets and sort of the overall malaise in virtually every country in the world. It's really all of those factors that play in there, and it's difficult to sort out how much is due to which one."-Tim Cook, CEO, Apple
The bottom line is that the fiscal second quarter's historic year-over-year decline in iPhone sales appears to be a hiccup. And with a newly designed
Apple iPhone 7
expected to launch during Apple's fiscal 2016 fourth quarter, there is every reason to think that Cook is right.
source:
AppleInsider