Apple to revolutionize the phone interface, again, and Androids may follow (air gestures, AR camera)
79
We've been hearing that Apple is
working very seriously on AR
for future iPhones and even
standalone products
, but it turns out that we might see the fruits of this labor as soon as the 2019 iPhones hit the shelves.
Korean media is abuzz with supply chain and industry sources tipping that Apple will implement a revolutionary new interface navigation method on them, based on air gestures and 3D-sensing cameras. The work is apparently so advanced that Chinese phone makers are rushing to mimic whatever they think Apple has in mind for 2019.
We were wondering how all of a sudden a time-of-flight 3D-sensing rear camera
landed in the new Oppo R17 Pro
, for the first time in a phone, and today we may have one of the possible reasons for this unorthodox kit. At the time of unveiling, Oppo said that the ToF stereo 3D rear cam can be used for gesture navigation and AR purposes, fitting perfectly with the narrative here.
Plenty of companies have been working on this, too, as you can see from
Microsoft Research
's demo on an oldie Samsung phone below, and what it does with just the standard RGB main cam - zoom, swipe, or flick.
It's not the first time Chinese makers are attempting something similar - after the
iPhone X
landed with a big notch at the front, housing the Face ID set, we now have
tens of notch-y models
with some sort of facial recognition unlocking. Not only that, but handsets like the
Mi 8 Explorer Edition
and
Oppo Find X
also
include
real 3D structured lighting face recognition at the front, like what Apple's
TrueDepth
camera does.
It's also not the first time we are hearing about a
potential ToF rear camera
on the back of next year's iPhones. That's precisely the
triple-camera setup
analysts and supply chain sources have been talking about for a while now. Let's not forget that the
Galaxy S10
is also expected to
feature a tri-camera model
next year, so where there is smoke, there might be AR fire, too. Everyone may be forced to respond to Apple implementing a breakthrough navigation tech, according to a source in the parts supply chain:
A company, a Chinese smartphone maker, is looking for a countermeasure, and Taiwan maker B is planning a business to supply multi-hovering parts to Android smartphone makers... The industry is busy.
The parts industry says that Apple has cracked the code of multi-finger hovering gesture recognition by increasing the capacitive touch sensitivity from 30mm to 50mm and eliminating the problem of ghosting touches somehow. Coupled with the AR/VR rear camera(s), this could lead to virtual objects scanned with the ToF camera to be manipulated smoothly on the screen without touching it, for instance. Apple has plenty of patents filed in the last two years that detail how a 3D-sensing, touchless interface would work, including for gaming. Here's what one of these 3D depth mapping patents says:
Such depth mapping may be applied to interactive video games. For example, a subject may interact with a game by making various gestures with his hand, and depth mapping may be used to identify the gestures.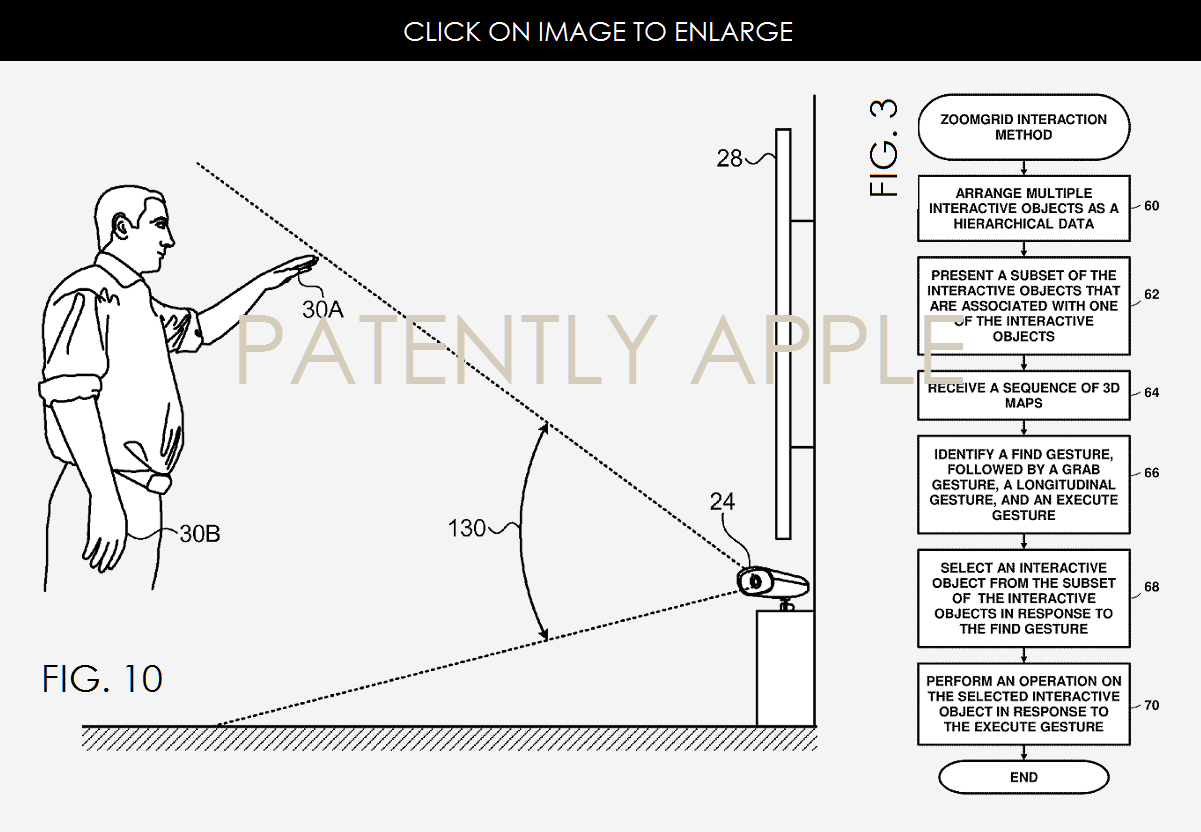 The distance-aware display of the 2019 iPhones could also remove the need for a proximity sensor, and so on. The possibilities are endless, and we can't be more curious to see what Apple and the Android gang do with this Minority Report tech. We hope it looks like that PrimeSense promo video below - after all,
Apple bought out PrimeSense
, and its engineers have been involved in filing Apple's depth interface patents. Now, what will Apple call it, if
3D Touch
is already taken?