Another claim that Nokia has replaced its N9-00 MeeGo QWERTY slider with something else
8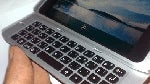 One
rumor
in the last weeks lead us to believe that the Nokia N9-00, the company's first MeeGo phone, has been cancelled by the Finns. The rumors were fueled mainly by one
Eldar Murtazin
, who also claimed, but only on Twitter, that he had a Nokia N9-01 substitute in hand, which is now touchscreen-only. Nokia's first MeeGo effort, whatever it ends up looking like,
should be presented
at the MWC Expo.
Now Reuters came up today with a similar story, confirmed by two "industry sources close to the company". So the probability that a phone with a physical keyboard won't be Nokia's first MeeGo device is getting bigger by the day. The codename of the new MeeGo thing, the Nokia N9-01, is said to be "Lankku", which means board in Finnish, so it might as well be a slate device.
Nokia N9-01 is
rumored
to feature a screen with 480x854 pixel of resolution, probably over 4.1", a 1.6GHz Atom CPU, 1 GB RAM, graphics processor at 200MHz with 512MB dedicated memory, HDMI-out, NFC chip, GPS, Wi-Fi and Bluetooth, as well as a 21Mbps HSPA+ radio. If this thing has the 12MP camera of the
Nokia N8
we'd say it will definitely have a chance for faster adoption.
We should know very soon, Nokia is having an event on Friday, and also a news conference on Sunday. The Friday event will most likely be platform-related, and the rumors are split between Nokia adopting Windows Phone 7 and staying the current course (maybe with
Android emulator
for its MeeGo devices?). Whatever it is, we know that European carriers are firmly behind Nokia's restructuring, and will back it up whichever way it takes, as they mentioned recently, since Apple and Google's march is threatening to turn them into mere infrastructure providers.
source:
Reuters
via
Engadget