Angry Birds Star Wars 2 hits three platforms in full force
5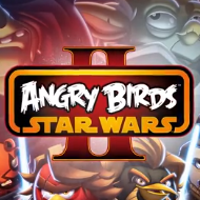 Angry Birds Star Wars 2
has been launched by Rovio in the Google Play Store, Windows Phone Store and iTunes. The sequel to the very popular first version, Angry Birds Star Wars 2 deals with the first three Star Wars episodes that were made after the original trilogy was viewed on the silver screen. You can join the 'Pork Side" and play as the pigs which means that you can play as Darth Maul or Darth Vader. In fact, there are 30 characters available for game players. You can bring these characters into your game by snapping pictures of your Hasbro Telepod figures, although so far that feature doesn't seem to be working smoothly.
One new feature allows you to switch the characters nestled in the slingshot. So far we haven't seen whether or not there will be a playable character representing Jar Jar, perhaps the series' most controversial creature.
The first-gen game was extremely well-received and we have no doubt that the same thing awaits the sequel. An ad-supported version of the game is free to download while those who despise ads can pay 99 cents for the paid version of the game.
Would we really end this story by saying "May the force be with you?" You bet we would!
source: AngryBirdsStarWars2 (
Android
|
WindowsPhone
|
iTunes