Android users were responsible for more than 40% of global mobile data usage in December
11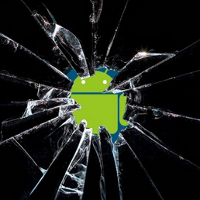 Based on data from a StatCounter chart, of the major mobile OS in use, only Android, Windows Phone and BlackBerry users ended the year snarfing up more data than they used starting back in December 2012. Those toting a device powered by Google's open source OS had consumed 33.19% in December 2012. A year later, that figure is at 43% and rising. Windows Phone, expected by many to have a great year ahead, saw its share of mobile data consumption worldwide rise from .91% to 2.08% from December to December.
Windows Phone was led by its entry-level devices like the
Nokia Lumia 520
/521. The
Nokia Lumia 525
was recently launched overseas
to update the line. With specs similar to the older Lumia 520, the only major difference is a bump to 1GB of RAM on the newer model. This allows the phone to handle the latest apps and games available for the platform. This year, the expectation is that Windows Phone will get more traction from its high-end devices, which now sport specs similar to top-shelf Android models.
Devices powered by Apple's iOS used 23.26% of the world's data consumption in December 2012. Last month, that figure was off a tad to 21.82%, still good enough to be second to Android. BlackBerry users finished 2013 responsible for the use of 3.63% of mobile data globally. That was up slightly from the 3.53% seen in December 2012, and kept BlackBerry ahead of Windows Phone in terms of data usage. However, we would not be surprised to see BlackBerry fall under Windows Phone when we revisit this chart next year at this time.
Series 40 users consumed 13.02% of global mobile data in December 2013, and Symbian handsets were used to download 4.95% of the world's mobile data used last month.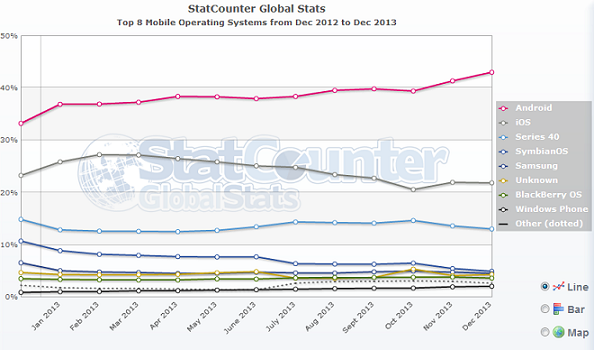 Android users lead the way in the consumption of the world's mobile data
source:
StatCounter
via
WMPoweruser