Android passes iPhone in U.S. traffic during March
This article contains unofficial information.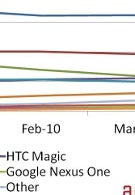 AdMob, a mobile advertising company that is in the midst of being acquired by Google, uses requests to see mobile ads as a way to measure traffic in the smartphone market. Based on data from March, Android traffic in the U.S. surpassed that of the iPhone for the first time. AdMob's metrics showed that Google's open source operating system owned a 46% share vs, a slumping 39% for Apple's touchscreen device. Android is really becoming a broad segment of different handsets. In September 2009, the HTC Dream and Magic represented 96% of the Android landscape. Seven months later, 11 devices added up to count for the same 96% share. As of last month, Android 1.5 and
2.1
represented 38% and 35% respectively of the Android pie. Also as of March, Motorola was the leading manufacturer of Android handsets with 44% of the market. With 43% is HTC and Samsung is a distant third with 9%. That will probably change in HTC's favor with the launch of the super sexy Droid Incredible on April 29th and the June release of the EVO 4G for Sprint. In the U.S., the top three Android devices as of March were the Motorola DROID, HTC Dream and Motorola CLIQ. In the U.K., the top three were all HTC manufactured phones-the Hero, the Dream and the Magic.
Apple iPhone 3GS Specifications
|
Review
Motorola DROID Specifications
|
Review
HTC EVO 4G Specifications
|
Hands-on
HTC Droid Incredible Specifications
|
Review
source:
AdMob