Android Wear update to version 1.4 adds support for gestures, audio and more
4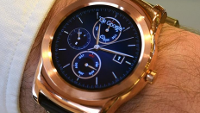 The Android Wear update to version 1.4 brings support for a number of watch gestures. While they are turned on by default after the update, you can double check this by waking up your watch face with a touch. Swipe left, and scroll down until you see Settings. Tap on it, and touch
Wrist Gestures.
Not only will you be able to enable or disable wrist gestures, there is also a tutorial in the settings. Keep in mind that having the gestures on will negatively affect your battery life. With gestures, your watch will respond to the speed and direction that you move your wrist.
To scroll through cards, quickly move your watch away from you, and then slowly bring it toward you. To go back a card, you reverse the speed by slowly moving the watch away from you, and quickly moving it toward you. To take the first action on a card, hold your arm in front of you. Push down and bring your arm back to the original position. The same gesture from the main watch screen, instead of from a card, will open the apps menu.
Other changes coming with the update include the ability of an Android Wear watch with a hardware speaker, to play sounds and take calls. Not all Android Wear watches pack the necessary speakers for this. Among those that do, are the LG Watch Urbane 2nd Edition, Huawei Watch, and the Asus ZenWatch2. With the update, you will be able to use your voice or touch to send WhatsApp, WeChat, Viber, Telegram, and Nextplus messages. There will be improvements to the battery life, and support for other languages like Mandarin, Cantonese, Indonesian, Polish, Dutch, and Thai.
The update should be rolling out shortly.
Thanks for the tip!
source:
Google
via
9to5Google