Android N preview at Google I/O goes over performance, security, and productivity improvements
12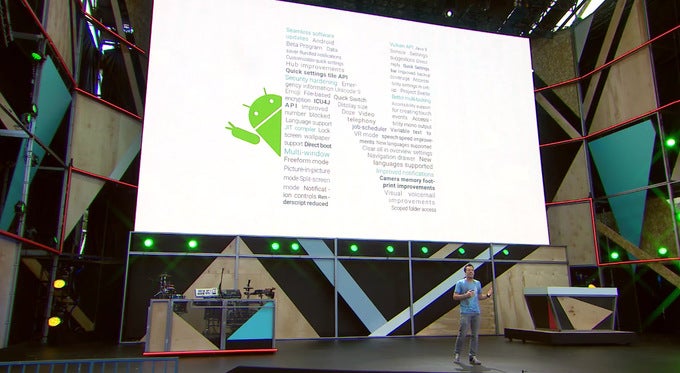 That Google is hard at work on the next major Android release is no secret. In fact, Android N, as it is referred to for now, has been available in an early preview form since March of this year. You know, for all digital adventurers to test-drive ahead of its launch. What wasn't quite clear, however, is what the upcoming software update would really bring to the table once it is released – some of its highlights were known from the early preview we just mentions, others were kept under wraps until today. Thankfully, the Google I/O keynote shed some light on the matter.
ALSO READ:
Performance
Several Android N pillars were overviewed at the Google I/O opening event. On the performance side of things, we have the addition of support for Vulkan – something we knew about, but not much was said regarding what benefits this would bring. So now we know that this new API would allow game developers to create better-looking games without sacrificing performance. This is achieved by providing them with direct control over the GPU. For those not familiar, Vulkan is 3D graphics and compute API with low overhead, available on multiple platforms. Or in human speak, it enables the addition of advanced visuals – realistic motion blur, real-time water effects and reflections, to name a few – to games in a highly efficient manner, without bogging down the device's hardware.

New Vulkan API will bring great graphics in games without sacrificing performance
But performance is not all about gaming. The compiler in Android N shows a performance increase between 30 and 600 percent on major CPU benchmarks compared to Marshmallow. And through the addition of a new JIT compiler, app installs are 75% faster, all while using 50% less space. Further improving performance and battery consumption is the compiler's ability to write compiled code for the next time an app runs. Oh, and the "Apps are upgrading" dialog after a software update is now gone. All this makes the Android N release more efficient than ever.
Security
When it comes to security, timely software updates are of paramount importance. Updates can be a drag to deal with, however, which makes this new Android N feature more than welcome. When available, updates will be downloaded automatically to the device and will be applied the next time it is powered on. All is done seamlessly, without the user having to deal with anything or go through lengthy installation procedures.
Furthermore, Android N brings file-based encryption for the user's data. This is done to provide better protection for each individual user of the system. Also, key sub-systems – things like codecs and file extractors – have been split into individual protected processes for better security of the entire device.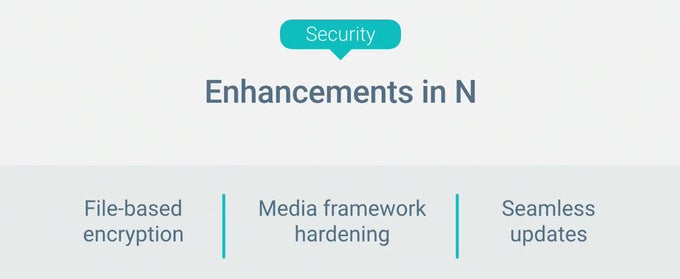 The three key areas where Android N security has been strengthened
Productivity
Of course, a phone needs to be not only fast and secure, but also practical and fun to use. To improve in the latter field, Android N comes with a better recent apps screen and additional multitasking features, many of which we actually got to try in the early Android N preview. For instance, clearing apps that haven't been used in a long time makes it easy to find the app you're actually looking for. Also, a Clear All button is conveniently placed at the top! But the coolest addition has to be Quick Switch. In a nutshell, a double-tap on the recent apps button will bring back the last app you were in. During a call, for example, you can switch back to your contacts list or calendar, which you just had opened. Then another double-tap will go back to the dialer.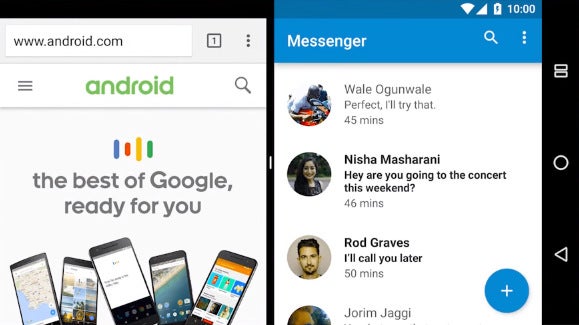 Android N makes native side-by-side multitasking possible
But the multitasking capabilities of Android N go further, just as expected. The new version introduces split screen mode for both tablets and phones. Basically, long-pressing the recent apps button lets you open another app. Both apps are active at the same time, so you can take notes while watching a video, for example. And with picture-in-picture mode, you can have a video hovering in a window over another app, although this feature was only shown in an Android TV interface.
The enhanced notifications UI is another tweak we find useful. It gives us the option to send quick replies to incoming messages without having to open the respective app, and a long-press on a notification lets us block notifications or set them to show silently. And since notifications from the same app are grouped together, more of them can fit in the shade. For all the chatheads out there, over 70 emojis have been added.
Release date and expectations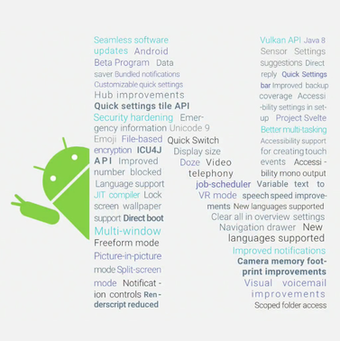 All this may seem like a lot of stuff, but in actuality, there's a lot more coming up with Android N. Doze, for example, has been expanded to work when the device is in stand-by, but not stationary, and we haven't even touched on Daydream – Google's virtual reality platform.
However, we won't be able to experience Android N in its fullest until later this fall. The good news is that a new beta version will become available for preview shortly. We'll try to get a hand on it as soon as it is out to share hands-on insight on the platform's new features. Until then, take a look at the rest of our Google I/O coverage, submit your
suggestion for what sweet treat N should stand for
(even though that contest is for entertainment purposes only), and let us know in the comments if you're excited about Android N's launch!