Android Ice Cream Sandwich: what will Google treat us with on October 18th?
49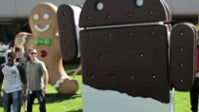 Android Ice Cream Sandwich
(ICS) is probably the biggest update to happen to Android for its three-year lifespan since the launch of the first phone on the platform, introducing many elements from Honeycomb and bringing phone and tablets together into a single unified platform. Google calls it their
"most ambitious release to date."
The search giant and Samsung were expected to announce it back on October 11th, but they postponed their CTIA event to allow more time after the passing of Apple's chief executive and industry visionary Steve Jobs.
Now, however, things are settled for
October 18th at the AsiaD
: AllThings Digital conference. Samsung promises the event to be BIG as it will most probably
present us the Nexus Prime
, but it's Google's Ice Cream Sandwich that will end up on many Androids after that and could be even more important. We'll - of course - have a live blog on October 18th starting at 7:00 pm PST | 10:00 pm EST, so prepare for a nice geeky evening on Tuesday.
1.
Tron-ified
. Android Ice Cream Sandwich will bring a big redesign. Cold colors and neon highlights, all coming from a parallel futuristic Tron-esque world. Or from the land of Honeycomb tablets, that is. The similarity is striking. If you ever thought Android looked somewhat like iOS, this redesign will make it hard to trace the matches. Actually, given the numerous lawsuits against Android from all sides, Google might have decided to make a leap to more distinct visuals and thus protect its platform from design patent claims.
2.
Minimalistic icons
in the menus. The set of icons has also changed and now we have a beautifully simplified set of black and white icons in the menus following the less-is-more design principle.
3. (Nearly)
Ubiquitous navigational buttons
, straight from Honeycomb. If you thought, buttonless applied to Ice Cream Sandwich, you'd better redefine buttonless because the three virtual navigational buttons will be with you nearly everywhere in ICS. When they become irrelevant such as in the camera application, they will simply dim out, but - judging from a leaked video of allegedly the Nexus Prime - the space on the screen reserved for them will remain as a black unused spot.
4.
Visual multitasking
. It's a new way to multitask, kind of. New for handsets, but it has been directly copied from Honeycomb, so some of you have already seen it. What's good about it is that it's visual - it shows the state of the app where you left it. What's bad about it is that it takes a lot of space, so you can only see about three apps on the screen without the need to scroll around.
The biggest deal about ICS is its ambition to bring an end to fragmentation and become a single stop for both tablets and smartphones. Google promises to release the source code, so we can expect an eruption of ICS tablets and smartphones from all kinds of sources (China, hello!).
Google also promises regular updates and unification of its update policy, but it will also introduce previously Honeycomb-only features to phones and one of the most anticipated ones is USB hub. This basically allows you to connect peripheral devices such as keyboards and mice, greatly boosting productivity.
New APIs will be released to devs, and Google has already given some details about how programmers should rework their apps in preparation for ICS. Finally, we have some fancy new features like face recognition in the works.
When it comes to the apps, we've already seen that Google Music has been reworked, signalling that some other apps of what we call the Google suite of apps (Maps, Gmail, Latitude, etc.).
Got your expectations pumped about Android Ice Cream Sandwich? What is it exactly about the platform that you think will make it or break it? Let us know in the comments below.