Americans are keeping their phones longer; new data says U.S. users wait 29-months between upgrades
38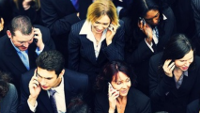 According to data computed by Citibank, by the first half of this year the average American will be keeping his phone for an average of 29-months. That is up from the 28-month holding period that Americans averaged in the fourth quarter of last year. With the demise of the two-year contract and the subsidized phone offer, more Americans are paying full price for their handsets, As a result they are not as eager to turn them over so quickly.
Two to three years ago, the average smartphone was being held for only 24 to 26-months, which you might expect with consumers upgrading to a new phone every two years. And who wouldn't, considering that they were paying $199.99 for a $500 to $600 phone. But it is not only the end of subsidized pricing that is responsible for the longer period of time that Americans are holding their phones for. It also has to do with the fewer number of new features being added to each year's generation of flagship phones.
T-Mobile and Sprint have tried to work around the new world order by offering leasing plans. Customers pay monthly lease rates for 18-months. After that year and a half, they have the opportunity to trade in for the latest model (with another 18-months of lease payments starting over). Or, the consumer can pay off the balance due in order to keep the phone.
In 2011, a peak 35% of U.S. postpaid subscribers upgraded to a new handset. In 2014, that figure dropped to 32.5% before slipping to 30% last year. It seems pretty certain that we will slip under the 30% mark this year.
source:
WSJ