Amazon's Fire Phone flop won't stop it from launching more handsets
23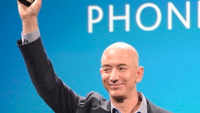 Despite having produced a huge flop with the
Amazon Fire Phone
, it seems that Jeff Bezos is not giving up on the category so quickly. Yes, there were high hopes
when the Amazon Fire Phone was introduced
. The company had managed to make a huge name for itself in the tablet industry with its forked Android flavored Kindle Fire tablets, priced to undercut all of its branded competitors, such as Apple and Samsung.
Quickly though, it became apparent that the Fire Phone would not follow the Kindle Fire to the land of success.
Amazon ended up writing off $170 million of unsold inventory
collecting dust in its warehouse. Problems selling the handset could be detected quickly, as AT&T cut the price to 99 cents on contract. The carrier had the exclusive rights to sell the model in the states, designed to invoke the OG
Apple iPhone,
which was also an AT&T exclusive for a few years.
But the Amazon Fire Phone was no Apple iPhone. Still, CEO Bezos has said that "
it's going to take several iterations
" before he can decide the merits of the device. And that means we should expect at least two more sequels of the Fire Phone at the least. For the device to pick up market share, perhaps the Fire Phone 2 should be offered by all four major U.S. carriers instead of just AT&T. Sure, the exclusivity worked with the iPhone, but the latter was a once-in-a-generation new product.
Other things that Amazon needs to think about for the Fire Phone 2 include the lack of Google Services. There might not be an easy answer to this, but the public is familiar with Google's applications. And while the innovative Mayday and Firefly services are a nice touch, most felt that the 3D effects were too gimmicky. But the most important thing that Amazon needs to fix with the Fire Phone 2 is the pricing. The unlocked price tags of $649 (32GB) and $749 (64GB) were just too much for the handset. Even the respective two-year contract pricing of $199.99 and $299.99 at AT&T might have seemed high in retrospect.
Amazon's MO is to keep pushing until things work out. This game plan has enabled the company to become the behemoth that it is now. With that in mind, it would seem likely that Bezos and crew will continue to work on the Fire Phone until they get it right.
source:
Forbes
via
Re/Code