Nokia might announce two Windows Phone 8 handsets on September 5
27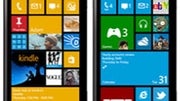 And the rumor mill is at it again bringing spicy bits of speculation surrounding
the release of the first Windows Phone 8 handsets by Nokia
. According to a source from the far east, the Finnish manufacturer will unveil not one, but two smartphones running WP8. Supposedly, that will happen on September 5, which is when Microsoft is also expected to release more details regarding the development of Windows Phone 8.
But as you should with any rumor, take all of the above information with a healthy dose of disbelief, especially since the source,
WPDang
, has no solid evidence to back up its claims with. Just arm yourselves with patience for now, folks, and don't get too excited until an official announcement comes from either Nokia or Microsoft.