All you need to know about the Nexus 4 and Nexus 10
62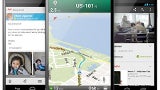 Hurricane Sandy may have forced Google to cancel its event, but it couldn't stop Android 4.2 and the new Nexus devices from getting announced today. Indeed, that is exactly what happened, and while we already knew quite a bit about the Nexus 4 and Nexus 10, this announcement itself somehow managed to take us by surprise. After all, who would expect Google to announce its stuff after it cancels its event?
But what is important now are the new devices, and these are the
Samsung Nexus 10
tablet and
LG Nexus 4
smartphone. You can be sure that both are wonderful devices designed with the latest and greatest technology in mind. The Nexus 10, for example, is the tablet with the highest resolution right, which the Nexus 4 is one of the very first handsets to feature the benchmark-crushing Snapdragon S4 Pro quad-core chipset.
Let us not go into details here, though, as you'll be able to find all that you need in that neat pile of coverage we've prepared for you below. Enjoy!
LG NEXUS 4 AND SAMSUNG NEXUS 10 COVERAGE
Highlights