Google partners up with Warner Music Group, Time Inc for new Play store content
11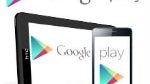 The Google Nexus 10 tablet and the LG Nexus 4 smartphone were not the only items on the list of announcements that the tech giant made today. The Google Play online store is getting some attention too, you know.
In particular, Google is bringing movie purchases to a number of new countries –
Canada, the U.K., France, Spain, and Australia
. Furthermore, Google has partnered up with Time, Inc so you can expect new magazines to be made available for purchase online: InStyle, PEOPLE, TIME, and more.
However, that isn't all. Google announced that it has also entered into an agreement with Warner Music Group, which means that music from more artists is to land in Google Play. Warner's entire music catalog will be added, with new songs expected to come on a daily basis. Now that the latter partnership has been set in stone, Google is working with all of the world's major record labels, in addition to all the major U.S. magazine publishers.
Keep an eye on the Google Play store as it probably won't be long until the new content shows up.
source: Google