Google announces Android 4.2 with new camera features, multiple users support, still called Jelly Bean
54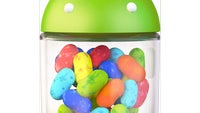 A new flavor of Jelly Bean has arrived, and it isn't Buttered Popcorn or Very Cherry. Nope, we're dealing with something a bit more sophisticated, namely
Android 4.2
, which Google officially announced minutes ago, alongside the highly-anticipated
LG Nexus 4
smartphone. Excited to know what the platform's new version brings to the table? Then let's waste no time and cut straight to the chase.
In Android 4.2 Jelly Bean, Google has given the camera interface a thorough overhaul. A new mode called Photo Sphere awaits you, allowing users to take impressive 360-degree photos composed out of stitched images. You know, kind of like what Microsoft's Photo Synth does. The composite images can be viewed right there on the device and then shared on social networks, even posted on Google Maps for the world to see.

Photo Sphere lets users take 360-degree photos with Android 4.2
Next in line comes the upgraded on-screen virtual keyboard, which now features Gesture Typing. Think of it as Google's version of Swype. The software automatically adds spaces and can predict the next word you are trying to type. Voice typing has also been reworked, so you can now speak out your messages and have them converted to text even when offline.
Support for multiple users à la Microsoft Windows has finally been enabled with Android 4.2. The code for the feature was present in 4.1 as well, yet Google has now made it accessible for end users.
"Everyone can have their own homescreen, background, widgets, apps and games – even individual high scores and levels! And since Android is built with multitasking at its core, it's a snap to switch between users – no need to log in and out"
, Google clarifies on the Android web page. However, multiple users support will be available only on tablets.
And here is something for folks who like sharing content on the big screen quickly and easily. With Android 4.2, Google adds wireless mirroring to a TV connected to the same Wi-Fi network. In other words, whatever is displayed on your device's screen - movies, YouTube video, you name it, will be displayed on your HDTV.
Last but not least, we have Daydream, which adds some spice to your lock screen by displaying useful and delightful information when your Android device is idle or locked - photos from your album, the latest headlines, and more.
So there you have it! Android 4.2 has arrived, and these are the major new features that set it ahead of the previous version. Now all that is left for us to give it a first-hand spin, which we are already looking forward to.