Google Now receives major upgrade
20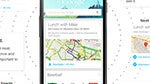 Though it will appear in the Play Store as an update to "Google Search", don't be fooled, this is a massive upgrade to the Google Now, Google's "intelligent push" service that is a response (and something of a leapfrog) of Apple's Siri voice search. Google Now will get several more types of cards it can present, including some that can pull in information from your Gmail account (if you opt in). While big fans of anonymity may choose not to use the new features (or simply avoid Google Now altogether) the ability to search your emails for specific types of information allows for arguably the most useful Google Now cards yet.
Specifically, Google Now is smart enough to recognize hotel and airline confirmations, so it can pull that information and be ready to remind you on the day of your flight, how to get to your hotel from the airport, etc. Using the same data also helps homebodies, as it can also recognize shipping confirmations, so it can provide a status update to where your packages are, and a link to the latest tracking information. For anyone who's ever wondered whether or not the flowers they ordered will arrive in time for an anniversary, or just waited impatiently for their next mobile device to arrive at their doorstep, this sort of information will be highly prized.
As Hugo Barra, Android's director of product management, indicated to The Verge, there are hundreds of different types of cards in the Google Now pipeline; the main challenge is to find ways to show users just the cards they'll want when they want them, rather than overwhelming people with endless snippets of information. What is perhaps most impressive about the new set of cards is it finishes the process of integrating all of Google's back end services to provide information to end users – what started out two years ago as a humble 20% project has become the one product that has successfully integrated the entirety of Google's massive data services.
As a result, no single Google Now update is likely to result in users seeing dozens of cards in their feed; rather the result should be a greater variety of cards that can show up when appropriate, and greater usefulness when they do. Of course learning how and when to do that is a thorny problem - a problem that would be easier if millions of consumers were using Google Now on a regular basis. Unfortunately for Google that isn't happening as quickly as possible since the service is restricted to devices running Android 4.1 and higher. Perhaps the
trio
of
new
Nexus
devices
introduced today will help bring Google Now to the wider audience that Google intends?
source:
The Verge