After the Note 7 battery ordeal: Chinese customers lose faith in Samsung, will be switching to Apple
61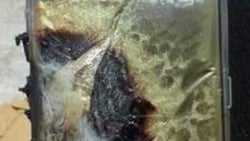 It's not hard to imagine that the recent
exploding Note 7 ordeal
has caused Samsung's brand to take a hit. Considering the fact that the company's most expensive, most high-tech handset turned out to be a ticking bomb for so many users, we are pretty sure that a lot of customers will think twice and wait for reports next time Sammy releases a high-profile smartphone.
Still, the company did organize
a full recall
for its faulty phablets and re-launched an updated line, which is deemed "safe". This move kept 90% of the Note 7-owning customers
loyal to the brand
, according to Samsung numbers. But it seems this information is not exactly true when it comes to China.
Reportedly, the
Note 7
devices that are in danger of combusting are the ones equipped with
Samsung SDI batteries
. And, since the phablets sold in China have a different juicebox in them, manufactured by Amperex Technology, Sammy said that devices sold in the country will not be subject to the recall, which occurred in other markets. Following this announcement, however, there were a few reports of Chinese Note 7 units catching fire. Still, after investigating, Samsung continued to claim that there was no manufacturing defect and that these fires were caused by
external heat
, not the Note 7s themselves, and only recalled
an early batch of "test devices"
.
Consulting firm iiMedia Research polled 12,000 Samsung users in China on whether the Note 7 fiasco has affected their decision to stick with the company. Of them, 51.9% said they will definitely switch away from the brand when buying their next phone, 18.5% said they will consider switching, and 29.6% said the incidents do not concern them since they were caused by external factors. Out of the customers that said they are definitely switching, 37% said they will be going for an Apple product next time around, while 26% will go for a Huawei handset. The rest will be choosing some of the less famous local brands, such as Xiaomi, Meizu, Oppo, and others.
This report definitely does not sound good for Samsung and its place in the Chinese market. In 2013, the company held a respectable 21% of the market, but due to pressure from local brands like Xiaomi, Meizu, and Huawei, and Apple's step to increase the iPhones' screen sizes, Sammy's piece of the pie shrunk down to 8% this year. If iiMedia Research's study is anything to go by, and if Samsung doesn't do something to regain its Chinese customers' trust, it might lose out on a lot of profits from the world's largest smartphone market. The fact that Sammy's PR didn't react fast enough to clear things up and calm the tensions is cited as the main reason for the loss of trust among customers.
source:
iiMedia
(
translate
)
Recommended Stories