ARM-based Microsoft Surface tablet will have a Tegra processor, NVIDIA confirms
14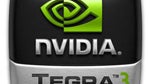 While
we learned quite a lot about the upcoming Microsoft Surface tablets
, there were still plenty of questions that remained unanswered after the official announcement was over. One of them was what processor the Windows RT model will come with. All that was mentioned was that an ARM chip of some kind will tick under the tablet's hood.
However, NVIDIA was quick to acknowledge that
the Windows RT Microsoft Surface tablet will sport a Tegra processor
. Exactly which processor will be used is still unclear, but the quad-core Tegra 3 is the first that comes to mind. One possibility is that the chip will be implemented using the
NVIDIA KAI
platform, which promises fluid performance at a competitive price point. Having a
Tegra 3+ setup
in the ARM-based
Microsoft Surface
tablet does not seem impossible either, although we are not quite sure whether this platform would be a good match for the device.
At the end of the day, the NVIDIA Tegra 3 is a pretty capable piece of silicon and we hope it will handle Windows RT without breaking a sweat. If priced right, the ARM Microsoft Surface tablet could prove a worthy alternative to top-of-the-line Android slates.
Recommended Stories