Microsoft announces its Windows 8 powered "Surface" tablet
42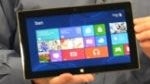 Soooo….
Microsoft's event in Los Angeles
ended up happening a little bit later than its initial scheduled time of 6:30 PM EST, but nonetheless, it's better late than never – right? Indeed, the Redmond based company had the industry wondering over the last few days as to what exactly they were going to announce. Previously, it was rumored to be some sort of
Windows-based device by Barnes & Noble
, but that idea was quickly shot down. Instead, they decided to announce something
significantly more grand
in the tablet space.
Enter the
Microsoft Surface
! It's a 10.6-inch Windows 8 powered tablet that incorporates a wealth of functionality, design, and core platform experience to keep those hardened PC users satisfied in making the transition to fully commit to a tablet. Well, the Microsoft Surface is the culmination of many products and software that the company has been developing over the course of its history, and surely enough, it's one beauty that's sure to give its rivals a run for their money. Well, that's as long as pricing is within a competitive level – more on that later!
Essentially broken down into
two specific models
, the first Surface is going to be powered by
Intel's 22nm Ivy Bridge chips
to give prospective owners that untouched "
full Windows
" experience. Conversely, the second model of the Surface is going to rely on an
ARM chipset
and it'll be running the
Windows RT experience
. Of course, the Windows RT version of the Surface manages to be a tantalizing piece of hardware as it features a 10.6" ClearType HD display with Gorilla Glass, weighs 676 grams, 9.3mm thin, microSD card slot, PVD finish, kickstand, and available in 32GB or 64GB capacities. Oh yeah, did we mention that it's dubbed as the
first PC with a magnesium case
?
As for the beefier Intel-based Surface tablets, the differences include the fact that they'll be running the full
Windows 8 Pro experience
, weighs in at 1.9lbs, thickness of 13.5mm, and they will be available in 64GB or 129GB storage capacities. Additionally, this Intel version will provide
digital ink support
thanks to the aid of a stylus (pen), which conveniently tucks away into the tablet's body via magnets.
Well folks, the fun doesn't end there. As we've seen with Apple's Smart Covers for the iPad, they offer additional functionality, but Microsoft decided to kick it up just a notch with their take on it. Basically, the optional
Touch and Type cover
for the Surface, which sizes up at a mere
3mm thin
, is a pressure sensitive cover that
doubles as a fully functioning keyboard and trackpad
. And of course, the optional accessories for it include Touch Covers that are merely skins for the Touch and Type cover – so you won't dirty up the keyboard with your greasy fingers.
Naturally, Microsoft really managed to bring the big guns to its last-minute event in Los Angeles, but surely enough, it's something that's compelling and enticing to behold. Honestly, the Microsoft Surface will make some people forget about these killer looking ultrabooks that are on the market. Furthermore, the Surface is being stamped with Microsoft's name and recognizable Windows logo – though, they're not necessarily "
manufacturing
" it. In terms of pricing, however, Microsoft was a teeny bit reluctant in giving us firm price points for its Surface tablets. On one hand, they're going to be
competitively priced to put them in line to other ARM-based or Intel ultrabook-like laptops
, but either way, it's still unknown at this point. Lastly, availability is still pretty much up in the air for the moment, but as we get closer to that, pricing will also be made known.
source:
Microsoft
,
The Verge
, &
CNET