A day in the life of the LG V10 with LG UX 4.0+
24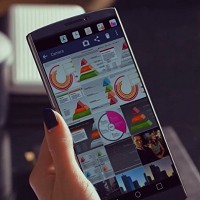 A new video released by LG, shows the
LG V10
working together with the new LG UX 4.0+ to make one guy and two girls enjoy their day in New York City. The guy wakes early, and by 7am he's out with his bike to ride through the streets of the city. He attaches his LG V10 to the bike's handlebar, and off he goes, showing how OIS keeps his videos looking smooth and steady. Stopping to film a street musician, he arranges the three directional microphones on the phone, so that the video picks up the sound of the guitar over the typically loud ambiance of the New York City street.
Now we move on to an office building where a female employee is using the second screen on the V10 to do some multitasking. Taking a break from work, she employs a headset along with the 32 bit Hi-Fi DAC, so she can chill with her favorite tunes playing through the phone.
Our last story focuses on another young woman who drops her LG V10. No need to panic! The stainless steel frame of the phone is MIL-STD-810G Transit Drop Compliant, which means that it can survive drops. And the Dura Skin protects the phone from getting scratched. Later that evening, at a party, she employs the multiview recording feature, which allows her to get images from all three cameras on the phone (two are on the front) at the same time. She can decide later which shot she will keep in the video.
It's just another long day in Gotham for the hardworking LG V10 and the LG UX 4.0+.
source:
LG