6 unusual smartphones released in 2015
32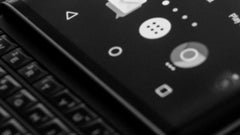 We've been watching the mobile industry for quite some time now, and it looks like each and every year is bringing at least a few smartphones that manage to surprise us in one way or another - sometimes it's the design, other times it's the innovative or unique features, or just previously unseen associations of brands and certain types of end products.
Last year
, we had things like the Android-based Nokia X series, Amazon's first smartphone (the ill-fated Fire Phone), or Apple's first phablet (the iPhone 6 Plus).
Naturally, this year, other unusual smartphones came into the spotlight, and, with 2016 being almost here, we thought that now would be a good time to talk about them. So join us below, will you? In case you're wondering, the handsets are listed in alphabetical order.
As you've probably already heard, BlackBerry this year officially adopted Android as its newest OS (though without ditching BlackBerry OS). The first BlackBerry smartphone to be based on Android is the Priv, a device that was released in November, and seems to be selling quite well. The BlackBerry Priv is not unusual just because it runs Android (with a touch of extra security that's specific to BlackBerry), but also because it's got a sliding QWERTY keyboard that's accompanying the large 5.4-inch Quad HD touchscreen display. Speaking of it, the display is curved on the sides - just like the screens of two Samsung handsets that we'll present a bit later in this article.
At first glance, the LG V10 may look like yet another Android phablet, but, upon closer inspection, you'll discover that it features a dual front-facing camera (for wide-angle selfies), and a secondary display next to it. This secondary display is a 2.1-inch one with 1040 x 160 pixels, and it's always on, letting you peek at notifications, or quickly open app shortcuts. Of course, the main 5.7-inch, Quad HD display will still be the one to provide the full smartphone experience.
No images
Released in the US as the Droid Turbo 2, and in other parts of the world as the Moto X Force, Motorola's newest high-end smartphone is the world's first to feature a shatterproof display. The technology that allows this screen to be shatterproof is developed by Motorola and is called ShatterShield. Motorola is guaranteeing that the display of the Droid Turbo 2 / Moto X Force won't crack or shatter for four years. Various
drop tests
have confirmed that this is, indeed, a shatterproof screen while makes this Motorola handset unique.
We already talked about the dual-curve screen of the BlackBerry Priv, but the world's first smarphone to have such a screen was Samsung's Galaxy S6 edge (released in March this year), while the second one was its bigger brother, the Galaxy S6 edge+ (released in August). The S6 edge and S6 edge+ are unlike any previous smartphones, having evolved from last year's
Galaxy Note Edge
(with its screen that's curved on only one side). Of course, from now on, we expect to see many other similar handsets, but we won't forget that the S6 edge series pioneered the dual-curve screen category (if we may call it that).
No images
The Sony Xperia Z5 Premium is another device that may look like a regular Android phablet, but it's hiding something that no other smartphone has: a display with a crazy 2160 x 3840 (4K) pixel resolution and a 801 ppi density. However, most of the time, the display (a 5.5-inch panel) runs at just 1080 x 1920 pixels. The 2160 x 3840 pixel resolution is currently reserved only for images, videos, and apps like Netflix and YouTube. Nevertheless, the Xperia Z5 Premium already made history as the world's first smartphone with a 4K screen.