2014 Nexus 6, Nexus 9, Nexus Player, and Android 5.0 Lollipop: all you need to know
23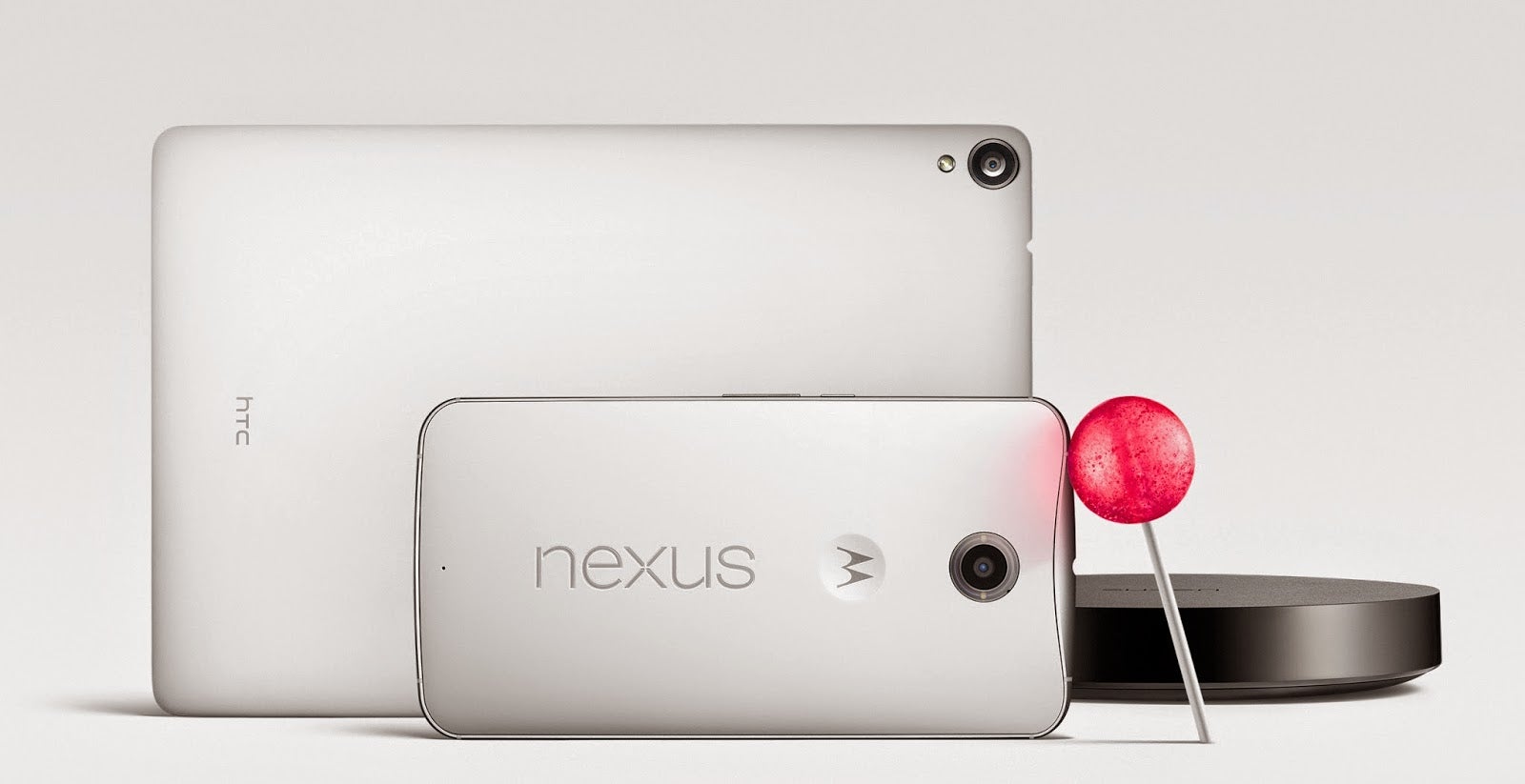 The new, 2014 Nexus family
The biggest day for Android in 2014, October 15th, brought us a brand new family of Nexus devices: the first Google phablet, the Nexus 6, a powerful Nexus 9 tablet with a 64-bit Tegra K1 chip under the hood, and an interesting mix between a set-top box and a console - the Nexus Player.
However, it is the platform that powers all of these that will truly make a difference: Android 5.0 Lollipop. Yes, Google did confirm that Lollipop is the new sweet treat, and the 5.0 indicates that we're looking at a major new release.
Android 5.0 Lollipop: "be together, not the same"
First things first, Android 5.0 Lollipop aims to unify the experience across all Android devices and screen sizes. Changes in Lollipop start with the outwards appearance that has now adopted a new 'Material Design' with flat looks, real-life mimicking shadows and less visual clutter. Add to this a new set of speedy animations and refreshed icons, and you have the new Lollipop looks.
Android 5.0, however, has undergone big changes under the hood as well: Google introduces a new ART runtime and the system is now 64-bit optimized, with all first-party Google apps being naturally updated for this change, while Java apps are getting the benefits of 64-bit without the need for developers to update them.
Nexus 6: Motorola-made phablet with flagship price
The Nexus 6 comes not to replace the Nexus 5, but rather to complement it: it's the newest and most powerful device in the series with a 5.9-inch Quad HD display, a Snapdragon 805 system chip, and a 13-megapixel optically stabilized camera capable of recording 4K video.
However, it's also one to break ties with the former Google ideology of affordable Nexus phones as its starting price is right on par with other flagships at $649 off-contract. We should also note that while Android Lollipop is 64-bit-ready, the Nexus 6 will not fully benefit from this as the Snapdragon 805 SoC is a 32-bit one.
The large size of the Nexus 6 comes with the possibility to add a larger battery, and finally fix the problems of the Nexus smartphone series with longevity - the sixth edition boasts '24-hour' battery life, and it comes with rapid charging technology. The Nexus 6 goes on pre-order on October 29th, and will land on store shelves on all major carriers sometime in November.
Nexus 9: the new 'right size' for Android tablets, with dual front speakers
The Nexus 9, a device earlier known under its HTC Volantis codename, features an 8.9-inch screen with a resolution of 1536 x 2048 pixels, and will be the first to go on sale with Android Lollipop in early November.
The tablet has got a sturdy metal frame, but a plastic back that reminds of the Nexus 5, down to design accents like round camera eye.
It's what's under the hood, though, that would really make those caring for performance salivate: the Nexus 9 is the first device powered by Nvidia's Tegra K1 in its 64-bit version with two large Denver CPU cores and Kepler graphics. The open question with the K1 is battery life, and Google claims it has managed to get 9 hours of average use, which sounds good enough (but we've seen better).
Nexus Player: Android TV combined with a gaming console
The $99 Nexus Player is the only real surprise Google gave us today, as there were no leaks pointing to it. It's a set-top box with Android, coming with a remote control that also supports voice.
The Nexus Player supports 1080p streaming, and is hooked up to Netflix, Hulu Plus, and YouTube. It also doubles on some functions we've seen on the $35 Chromecast: you can also mirror the screen of Android devices or screencast Chrome browser tabs from Windows, Mac OS X, Linux, ChromeOS, iOS and Android.
The killer feature of the Nexus Player, however, is gaming: for an additional $30 you can get a controller to enjoy compatible games and multiplayer via Google Play.