Google Nexus 6 vs Samsung Galaxy Note 4: in-depth specs comparison
82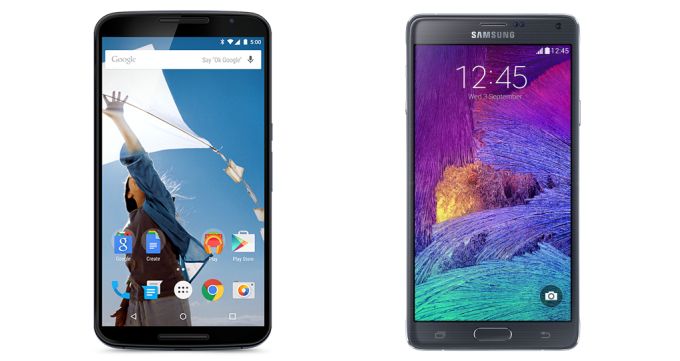 In light of yet another humble, no-event Nexus announcement, it's only fitting that we keep it simple and straightforward, too. Ladies and gentlemen, the
Nexus 6
is here, and this time around, Google has chosen Motorola to build it.
After a change from the strategy that saw Google and its hardware partner, LG, team up to bring vanilla Android-touting Nexus flagship devices to the market at affordable prices, the search giant is now returning to the roots of its line. Like with the now ancient
HTC Nexus One
and
Samsung Galaxy Nexus
, we're once again looking at a device that will be sold for the more standard $649. But Google didn't leave it at that -- the 5.96-inch Nexus 6 is also the biggest Nexus yet, and by far.
So big is the Nexus 6, that it's actually now finding itself in the company of phablet veterans like the
Galaxy Note 4
. But size is not the only similarity between it and Samsung's 5.7-incher, for the two also

boast extremely-sharp, Quad HD resolution displays, mighty Snapdragon 805 processors, and 3GB of RAM each. That's not the entire story, though, and this means only one thing: it's time to dig further.
Design
The rumor mill had it right all along -- the new Nexus really did end up being styled after
the 2014 Moto X
. In fact, if it weren't for its size and the giant, vertical Nexus logo on the back, we'd have a hard time telling it apart from Motorola's latest flagship. The front is differentiated from the Note 4 by its more rounded, soap-shaped form, its two speaker grills on the top and bottom bezels, and, of course, the lack of a physical home button. At the back, we've got a matted plastic shell that curves to the sides, while Samsung has gone for a fairly convincing, but ultimately fake plastic imitation of leather. To the sides, we've got a small (and welcome) surprise with the Nexus 6 -- unlike most manufacturers (Samsung and its Note 4 included), Google's phablet houses both the power key and volume rocker low on the right side of the frame, making them easy-to-reach and manipulate.
But to claim that the Nexus 6 is going to be a comfortable device to use would be misleading -- if anything, its dimensions suggest that it will be quite unwieldy, even in comparison with the also imposing Note 4 -- 6.27 x 3.27 x 0.40 inches (159.26 x 82.98 x 10.06 mm) versus 6.04 x 3.09 x 0.33 inches (153.5 x 78.6 x 8.5 mm). The Nexus 6 is also heavier (6.49 oz (184 g) versus 6.21 oz (176 g)), though its curvature might help alleviate some of the difficulties you'll probably run into trying to handle this device. In all, one thing is clear -- neither of these two is one hand-friendly.
Display
If any of you were hoping that, despite the insistent rumors, Google will nevertheless keep its cool and stick to a conventional, battery-sparing 1080p display, you might not appreciate the fact that the company is transitioning to a Quad HD one. Indeed, the 5.96-inch panel boasts a super-sharp resolution of 1440 x 2560 pixels, good enough for 493 pixels per inch. But that's not all -- the screen we're looking at is of the AMOLED type, and those are fairly rare with manufacturers other than Samsung. Speaking of the Note 4's maker, it has fitted a 5.7-inch, Super AMOLED screen with an identical, Quad HD resolution (or 515 ppi). For protection, both devices are making use of a Gorilla Glass 3 cover, which is harder to scratch and more resistant to shattering than conventional glass, all the while providing lower levels of reflectance in order to aid outdoor visibility.
One definitive advantage of the Note 4's screen is its ability to become extra sensitive through an option in the settings menu, allowing you to use it with gloves on. With winter behind the corner, that's a great extra to have.
Interface and functionality
Perhaps with the exception of price (a non-factor here), the fact that the Nexus line runs on the very latest, manufacturer bloat-free versions of Android was one of the family's definitive highlights. This does not change with the Nexus 6, which will be among the very first devices on the planet to offer the latest version of Android 5.0 Lollipop out of the box. One of the key changes with Lollipop is the transition towards a flatter, but animation-rich visuals that feel almost playful in that subtle Google style, and also provide a much-needed sense of fluidity to actions. Lollipop also brings notable improvements to the way you interact with notifications and how they'are served -- you can now action them straight from the lockscreen, for example. As part of the so-called Project Volta, Google is also introducing enhancement to battery life, so small to moderate savings are expected, not to mention that Android now finally has a dedicated power-saving mode.
Turning to the Note 4, we're looking at a much different approach. In contrast to Google's lightweight philosophy, Samsung is instead known for going full out with a bucketful of extras and perks, and nowhere is that more apparent than with its Note 4. The company's latest phablet sports Android 4.4.4 KitKat with its signature TouchWiz skin on top. The visuals here are also flatter than in the past, and Samsung chose to embrace color like never before with the latest iteration of TW, but we're still looking at the most complex take on Android available from pretty much any manufacturer. Apart from its iconic S Pen stylus sidekick (which now offers new features like Smart Select), the Note 4 also comes with notable perks like Smart Stay (screen stays on indefinitely, so long as you're looking at it), MultiWindow (run and interact with two apps side-by-side simultaneously), and even a special one-handed mode that re-sizes the entire UI to a more manageable size.
Overall, when thinking interface comparison, it definitely comes down to taste, as either of the two has its strong points. The Nexus 6, for example, offers a more straightforward,
Lollipop
user experience, and promises quick subsequent updates, all the while the Note 4 touts its arsenal of extras. It should, however, be pointed out that it will be a while until we see Android Lollipop on Samsung's latest flagship.
Processor and memory
With both devices sporting as high resolution displays, we're glad to see that the Google/Motorola duo, like Samsung, has gone for a quad-core Qualcomm Snapdragon 805 chipset. Capable of cranking up the clock speeds to up to 2.7GHz when needed, this is the first processor from the chip maker specifically marketed as capable of pushing such mind-blowing amounts of pixels. Both devices also make use of an Adreno 420 GPU, which has seen generational performance improvements over its predecessor, along with a few new features, like hardware tessellation.
As for RAM, both devices make use of generous, 3GB LPDDR3 blocks of memory. In terms of internal storage, we're looking at 32GB and 64GB models with the Nexus 6, and a 32GB model with the Note 4 (a 64GB version expected). Thankfully for Samsung, its phablet offers storage expansion via microSD (up to 128GB more), which is more than we can say for the Nexus 6.
Camera

Team Googlerola fitted a 13-megapixel, 1/3.06'' Sony IMX214 Exmor RS sensor (1.12 micron pixels) inside the Nexus 6, complete with optical image stabilization. The unit is also complemented by 6-element, f/2.0 lens and an unusual ring flash that surrounds it, with 2 LEDs inside. Up at the front, we've got a 2-megapixel selfie snapper, capable of 720p capture for the occasional video chat.
With the Note 4, we're talking a 16-megapixel, 1/2.6'' sensor (1.1 micron pixels), also garnished with optical image stabilization. The snapper has an equally wide, f/2.0 lens, but comes with a more standard, single LED flash. For the front-facing slot, Samsung chose a very generous, 3.7-megapixel camera that can do 1080p video.
In terms of video, both devices can do 1080p at 30 FPS (though the Note 4 can shoot super-smooth, 60 FPS 1080p clips also) and super high-res 4K UHD, also at 30 frames per second. Unlike the Nexus 6, the Note 4 can also capture slow-motion videos.
Obviously, the Nexus 6 is yet to reach our hands, so we don't yet know what kind of results to expect from its camera, but we do know that the Note 4 is currently one of the most capable smartphone shooters on the market, whether we're talking stills
or
video. We do, however, have to point out that the former two Nexus flagships were lackluster in comparison with the best flagships that were on the market at that time, but we'll still have to wait and see if that remains the case with the Nexus 6.
Expectations
It'll be interesting to see the way Nexus 6 affects sales of the Note 4, but not because we believe it has any kind of a real chance of actually competing unit for unit. Instead, we're curious to see the split the two will cause within what is likely going to end up as a community that mostly recognizes itself as one -- power users. Indeed, the Nexus 6's price of $649 will likely put off bargain hunters, and that means that it'll be mostly up to the appreciators of stock, vanilla Android to pick it up -- the same compact tribe that adores the Note 4 for its extended cache of features that no other manufacturer offers.
In all, we don't expect the Nexus 6 to make much of a dent in Samsung's sales projections for its prized phablet, but to misconstrue that to mean that the former isn't worthy of your very serious geek-on would be unfortunate and out of sync with the reality we're witnessing right this moment.