Android 5.0 Lollipop is officially here: Material Design, ART, power saving and more
26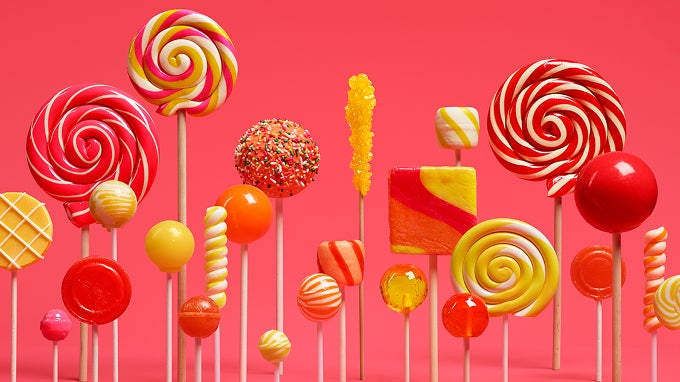 Without any precursory buzz at all, Google has just made an official introduction of the so-called Android L release. Just as most of us expected, the 5th major edition of Android will bear the name Lollipop, and there isn't a piece of lemon meringue pie in the world that can change that.
Android 5.0 Lollipop brings a plethora of functional improvements to the world's most popular mobile operating system, but that isn't the complete extent of this update. One of the biggest enhancements that Lollipop brings has to do with its visual presentation, as Google has redesigned the user interface of the platform in a pretty thorough manner. In terms of UI structure - little has changed, but most visual elements have been tweaked to utilize Google's new Material Design paradigm. In a move that aims to improve user experience and provide consistency across different form factors in the vast Android ecosystem, Android 5.0 Lollipop's Material Design makes the platform look more mature and polished than ever. Not only is the graphical user interface supposed to look better, but the system's overall response and fluidity have also been improved. The latter is also due to the new ART runtime, which is now the default one (ART was available as an alternative runtime in Android 4.4 KitKat).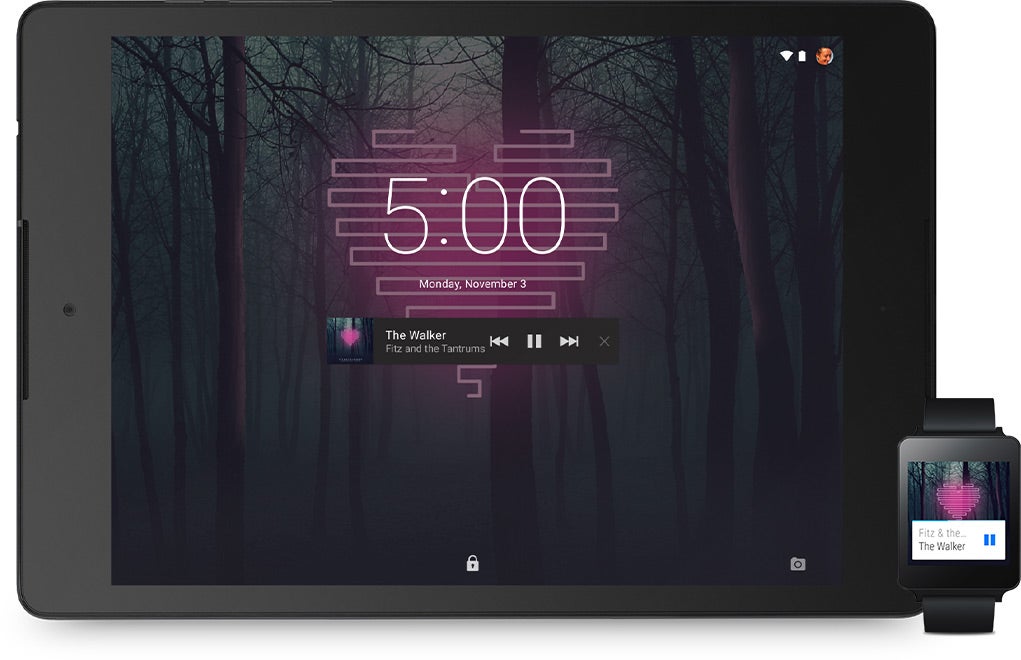 Having mentioned that Android 5.0 Lollipop is designed to deliver a more consistent experience across different devices, we actually have to clarify that Lollipop is expected to make the multi-device experience a modern and seamless affair, as it'll come with a "continuity" feature of sorts (
similarly to iOS 8
), which will allow you to "pick up where you left off", as Google puts it, when working with more than one Lollipop device. Usually, this would mean a phone and a tablet, but it's expected that this feature will exhibit a certain degree of implementation with other combinations, too, such as a phone and an Android Wear watch.
Android 5.0 Lollipop's Material Design will bring refined visuals and faster response times

Even though Material Design is going to make Android look and feel more consistent across different devices (or at least devices that are running stock Android), Google seems to be aware that ultimate convergence is nothing but a beautiful dream right now. That is why different device types (phones, tablets, watches), will rely on different UI solutions - ones that will try to get the most out of their respective assets. For example, the tablet UI will show more options and content than a phone, making use of the larger screen. Meanwhile, the watch will stay away from displaying too much info, and will focus more on delivering useful notifications to its owner, as seen in the picture just above.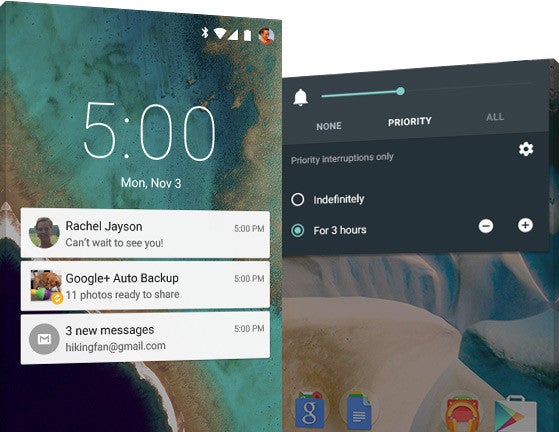 Notifications are also getting a huge revamp in Android 5.0 Lollipop. Not only will they work better than ever by neatly delivering the info straight to your lockscreen, but they will also give you some more flexibility to work with, as they will now let you reply straight from the lockscreen, as well as filter out some unwanted sources of notifications.
But, as you may guess, these are far from all of the new additions coming with Lollipop. One of the other notable ones is the new battery saver mode. While it doesn't seem to be something like Samsung's extreme Ultra Power Saving Mode, which disables most of the smartphone's functions, Android 5.0 Lollipop's power saving mode will aim to squeeze out up to 90 additional minutes of usage time. The power management aspect of the operating system will also benefit from some new data that's going to be accessible from the battery settings screen. Namely, users will be able to see how much time the battery has left at their current battery level, as well as how much time is left before the device is fully charged, while connected to a charger.
A new guest user mode that's making a debut in Android 5.0 Lollipop has the purpose of letting you safely share your Android phone or tablet with another user. Naturally, the idea here is to prevent that other user from seeing all of your private content. Be sure to use this one before handing the phone over to a friend - you probably don't want to accidentally leak
all those nude selfies
...
Android 5.0 Lollipop will be available out-of-the-box on the Nexus 6 and 9, and will soon arrive as a free update to the Nexus 4, 5, 7, and 10, Google Play Edition devices, all versions of the Moto X and Moto G, as well as the decidedly low-cost Moto E. Of course, there will also be other phones and tablets updated to Android 5 in the following months, but any time frames are yet to be announced by manufacturers.