Google Nexus 9 vs iPad Air vs Samsung Galaxy Tab S 8.4: specs comparison
22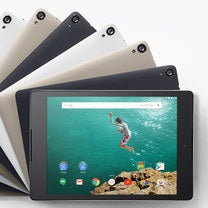 The announcement of the HTC-made Nexus 9 tablet came as no surprise to anyone who had been following our news feed. Leaks and rumors did a good job at spoiling the surprise by throwing its specs on the table, along with a candid image.
Yet this doesn't make Google's Android 5.0-powered slate any less exciting. Quite the contrary – it is a slate we can't wait to get our hands on. But we'll have to wait for a few more weeks until that happens as the tablet is projected to ship in early November.
In the meantime, we suppose it seems right to stack up the Google Nexus 9 against some of its potential rivals, at least on paper. Here's how Google's new tab compares against the Apple iPad Air and the Samsung Galaxy Tab S 8.4 in terms of specs.
IPS LCD
Super AMOLED
IPS LCD
Oleophobic coating, Ambient light sensor
Ambient light sensor, Proximity sensor
Scratch-resistant glass, Ambient light sensor
Apple A7
Samsung Exynos 5 Octa 5420
NVIDIA Tegra K1 (28 nm)
Dual-core, 1400 MHz, Cyclone, 64-bit
Octa-core, 1900 MHz, ARM Cortex-A15 and ARM Cortex-A7
Dual-core, 2300 MHz, Denver
PowerVR G6430
Mali-T628 MP6
Kepler
iOS (12.x, 11.x, 10.x, 9.x, 8.x, 7.x)
Android (6.0 Marshmallow, 5.0 Lollipop, 4.4.2), Samsung TouchWiz UI
Android (7.1 Nougat, 7.0 Nougat, 5.0 Lollipop)
30.0 days (720 hours)
the

average

is 0 days (0 h)
29.00 hours
the

average

is 0 h (0 min)
Single camera
Single camera
Single camera
5 MP (Autofocus, BSI sensor)
8 MP (Autofocus, CMOS image sensor)
8 MP (Autofocus, BSI sensor)
Aperture size: F2.4; Focal length: 33 mm
Aperture size: F2.4; Focal length: 29.2 mm; Sensor size: 1/4"; Pixel size: 1.12 μm
1920x1080 (Full HD) (30 fps)
1920x1080 (Full HD) (30 fps)
1920x1080 (Full HD) (30 fps)
H.264, MOV
MPEG4, H.263, H.264, WMV
H.264, 3GP
Time-lapse video, EIS, Video calling
1.2 MP
2.1 MP
1.6 MP
1280x720 (HD) (30 fps)
1280x720 (HD)
9.45 x 6.67 x 0.30 inches (240 x 169.5 x 7.5 mm)
8.38 x 4.94 x 0.26 inches (212.8 x 125.6 x 6.6 mm)
8.99 x 6.05 x 0.31 inches (228.25 x 153.68 x 7.95 mm)
16.86 oz (478.0 g)
the

average

is 16.3 oz (464 g)
10.51 oz (298.0 g)
the

average

is 16.3 oz (464 g)
15.38 oz (436.0 g)
the

average

is 16.3 oz (464 g)
Back: Aluminum
Back: Plastic
Touch sensitive control keys
Notification light